Press enter to begin your search
Legislation & Financial News
Breaking down the budget; what it means for business owners
The Chancellor is having to perform a juggling act where his priority is to ensure the economy emerges from this third lockdown without triggering widespread unemployment and the wave of business failures that many are fearing.  
Rishi Sunak has finally provided the clarity that the business community has repeatedly been calling for, but some aspects should and could have been communicated much, much earlier.  
Nevertheless, this new comprehensive package of support means hard-pressed business owners that have been the most adversely affected by the pandemic can plan ahead, now that we have the detail.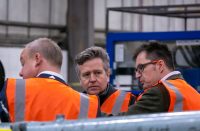 Support measures extended further
---
Extending the furlough scheme until September provides the certainty businesses need which will help them to take a step back and, hopefully, alleviate the feared 'cliff-edge' scenario around potential future job losses.  
Small businesses are the wealth creators and backbone of our economy, so it is vital the government does everything in its power to get them through this next critical recovery phase.   
The extension of the furlough scheme combined with the restart grants already announced and additional support for the self-employed means that we have a financial life support machine crucial for the survival of many small businesses as the country gets back on its feet.  
---
Big changes to Corporation Tax
---
Whilst there was no surprise around the Treasury's announcement that Corporation Tax would rise, a jump from 19% to 25% from April 2023 for all profits above £50,000 is quite stark – an increase of over 30%. This makes Rishi Sunak the first Chancellor since Dennis Healey to increase Corporation Tax but at least there's some relief for smaller businesses who will continue to pay the 19% rate on taxable profits up to £50,000. 
Whilst small businesses may feel a little hard done by, the tax receipts need to be found from somewhere and the election promise of no increase in income tax, national insurance and VAT leaves the Chancellor with few options other than Corporation Tax and freezing all of the allowances which creates 'fiscal drag' as more income falls into tax as inflation and pay rises happen over the coming years.   
---
Investing for the future
---
The biggest surprise is the new so-called 'super-deduction' which is a huge incentive for businesses prepared to invest in the future. And they have to act quite quickly as it is a two year window and 130% tax relief on capital expenditure is very tempting to achieve. Essentially Rishi Sunak needs business to invest heavily to improve productivity, the UK's traditional Achilles heel, which then drives growth in the economy thereby creating higher skilled and higher paid jobs which will drive income tax and National Insurance revenues, and these are the biggest two tax receipts. 
This strategy was supplemented by support for more training for leaders and colleagues alike which should encourage growing businesses to attract better trained and better paid staff who will have more income to spend on goods, incurring VAT, which is the third biggest receipt. 
So, it appears he's banking on creating a virtuous circle of economic growth that builds quickly to generate greater tax revenues in the medium term to pay for the pandemic and only time will tell if his plan works. But it's in all of our interests that it does, as a high skilled high productivity economy with highly paid workers is far more attractive than a low-skill, long hours economy. It will also meet the government's objective of levelling up more quickly too.'
---
---