Press enter to begin your search
Old Mill Updates
COVID-19: Practical guidance for our rural and farming clients #29
In this week's rural update:
Basic Payment Scheme (BPS) transition for payments
Job Retention Bonus removed from Government plans
Third round Self-Employment Income Support Scheme (SEISS) opens
Enhanced Time to Pay
Old Mill Video – How can Xero help my farm?
If you have any questions about any of the topics we discuss in this update or  relating to your own business please do get in touch with your Old Mill adviser in the first instance, or alternatively click here…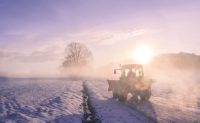 Basic Payment Scheme (BPS) forecast transition for payments
---
More details have been announced on the payment transition plan for farmers who receive the BPS.
The Government has outlined how direct support payments will be reduced by at least 50% as we reach the year 2024.  For example, a farmer with a pillar 1 direct payment of £50,000 should expect to have payments reduced to £46,500 in 2021, £39,000 in 2022, £31,500 in 2023 and £24,000 in 2024.  At the moment, the Government is working towards the loss of total subsidies in its current format in 2028.
To find out your expected reduction in support payments use the AHDB BPS Calculator.
We are finding a number of clients have not yet had a chance to read the documents released a few weeks ago and would recommend you look at the following:
Farmers will be asking 'How does my business need to adapt with reduced support?'.  The answer will depend on your individual business setup. Our advice is to consider your position as soon as possible. Review your finances and then speak to Old Mill to set up a plan for financial transition through the coming years.
---
Job Retention Bonus removed
---
The Coronavirus Job Retention Bonus (CJRB), announced by the Government last October, was intended to reward and incentivise employers who continue to employ their furloughed employees to the end of January 2021 by providing a one-off taxable bonus of £1,000 for each eligible employee.
The Chancellor has now announced, as the Coronavirus Job Retention Scheme Extension (CJRSE) has been extended to the end of March 2021, they have removed the Bonus Scheme and it will now not be paid.  The Government has said it may reintroduce this incentive but no further details have been given.
---
Third round Self-Employment Income Support Scheme (SEISS) opens
---
Applications are now open for the third SEISS to support self-employed people affected by coronavirus (COVID-19).
The Government's original plan was for this third grant to only cover 40% of average monthly trading profits, with a limit of £3,750 in total. This was then updated to cover 55% of trading profits but has now been extended again to 80%, paid out in a single taxable instalment capped at £7,500 and will cover the period from 1 November to 29 January 2021.
To make a claim for the grant your business must have had a new or continuing impact from coronavirus between 1 November 2020 and 29 January 2021.  Full eligibility details and how to claim can be found here.  If you would like to discuss the viability of your own circumstances and whether you should claim then Old Mill is here to help.
A fourth grant will cover a three-month period from the start of February 2021 until the end of April, with terms to be confirmed later.
---
HMRC enhanced Time to Pay
---
The Time to Pay scheme has been put in place by HMRC for those who have been affected by the Coronavirus pandemic and may, as a result, struggle to meet their tax payments.
Once a tax return has been completed for the 2019/20 tax year, if you have payments to make you have the option of using the online Time to Pay facility.  This offers a direct debit payment option on any tax that is owed to be repaid in monthly instalments – up to a 12-month period.
To qualify you have to fulfil the following criteria:
you owe £30,000 or less
you don't have any other payment plans or debts with HMRC
your tax returns are up to date
it's less than 60 days after the payment deadline
You can set up a payment plan online without having to contact HMRC. To start the process, click here.
If you think you will need to use the Time to Pay facility, please speak to your Old Mill contact first.
---
Old Mill Video – How can Xero help my farm?
---
Have you thought about using Xero? Or are you using Xero and want to utilise it better?  Old Mill have produced a 50 minute video, specifically constructed for farming businesses, which explores how you can improve your use of Xero and how you can use it for making business decisions. There is also a timeline so you can jump to the areas that interest you.
Xero admin efficiency
Xero farm dashboard
Xero for farm decision making
If you would like to take the next step in using Xero or you would like some advanced training please contact your Old Mill contact or alternatively click here.
---
---
If you have any questions about any of the above please do get in touch with your adviser in the first instance, or alternatively click here…
---