Press enter to begin your search
Think Tank
Dairy farming: Tax planning options for 2020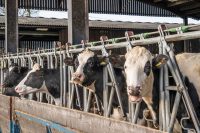 Dairy farmers' profits eased marginally in the year to March 2019, but should hold up reasonably well in the coming tax year.
However, there have been some notable difficulties, which should be considered when planning for the year ahead.
In our latest report, Milk Cost of Production Survey 2019, our findings revealed that net farm profits decreased by an average of 4% in 2018/19 – based on a preliminary sample of our dairy clients – as higher concentrate and input costs undermined solid milk prices.
The summer drought: The impact of 2018/19 on the year ahead
---
This had a massive impact on feed costs, particularly for farmers who traditionally rely on grazed grass, as they had to feed more concentrates to retain production levels. Purchased feed costs within the sample – with financial year-ends between December 2018 and March 2019 – were up by 23%.
There was an associated reduction in contracting costs, because of less forage being cut, but the extent to which farmers replaced forage with concentrates will not only have an impact on the 2018/19 figures, but potentially 2019/20 as well. Many producers fed more to maintain production and fertility levels, but those who struggled to do so could see a hangover of poor health and fertility into the current season.
That aside, the 2019/20 tax year is looking pretty positive, with global dairy production stuttering and giving some support to milk prices. Production conditions remain good in the UK, and spring calving herds in particular – which have already produced a lot of their milk for the year – will have benefited from reasonably firm milk prices.
---
So what does that mean for tax planning in 2020?
---
Plan your investments early to minimise your tax rate
Given the difficulties of forage shortages last year, many farmers put off spending on maintenance and capital items; investment runs on confidence and cashflow to a large extent, rather than profits. Many farmers will have been nervous of making investments in 2018/19 because of worries about forage and the cost of feed. Hopefully the more positive outlook in the current year will see that reverse.
With the potential for higher profits in the current tax year, it's important to plan such investment at an early stage. Tax planning options shouldn't only be considered just before the year-end – by that point it may well be too late to take beneficial action. Above all, having a good understanding of how tax and investment interacts with profits is a great help, particularly if you are a sole trader or in a partnership.
Take advantage of averaging
Higher profits could mean sole traders and partners jump from the basic rate tax band of 20% into the higher rate of 40%, so it's important to plan ahead to try and minimise the level of profits taxed at this rate. Producers often don't fully take advantage of the benefits of two and five-year farmer's averaging, which is a particularly useful tool when profits fluctuate so much from one year to the next.
Pay into a pension
Paying into a pension is another helpful way to keep profits below the 40% tax band, and is obviously beneficial for retirement plans in the years ahead.
Set up as a limited company
Structuring as a limited company continues to be another popular option, particularly where businesses are expanding, as the tax levied can be lower – although this will depend on your individual set-up.
---
The benefits of the Annual Investment Allowance
---
Another way to minimise the tax spend – which could be particularly attractive this year after a period of uncertainty – is to spend out on maintenance or capital projects. Much of this expenditure can be immediately offset against profits, with the Annual Investment Allowance (AIA) now sitting at £1m a year. This means that qualifying expenditure on plant and equipment can be set against profits, up to the £1m threshold.
If you are considering investing in buildings then it's useful to go carefully through itemised expenses and allocate as much as possible against the AIA. For example, milking parlours, silage clamps and slurry stores will all qualify, whereas the building itself will only be eligible for the new Structures and Building Allowance. This enables such investment to be written down at just 2% a year, so there is a big up-front benefit from allocating eligible expenses to the AIA wherever possible.
If you would like help on tax planning for your farm in the coming year then get in touch with us, or find out more about our Accounting services for farms.
---