Press enter to begin your search
Think Tank
Farming equipment import tax: Knowing your VAT charges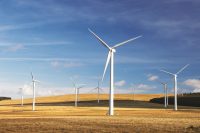 Many rural businesses are looking to energy-saving strategies and alternative energy solutions – including wind farms, solar energy farms, battery storage units and the production of biomass energy – as a cheaper source of power for their own business use, as well as a potential income stream from the sale of any excess power to the National Grid.
But with much of the technical equipment needed to set up and operate alternative power systems originating from overseas, it's important to understand the VAT and customs duty issues the buyer may face when bringing equipment into the UK.
Be careful of import VAT charges
---
If you don't identify and consider the indirect tax aspects before you begin importing, your budgeted expenditure can increase unexpectedly and significantly. And this is not just an issue for those looking at alternative energy sources; occasional importers of all sorts of goods can find themselves incurring costs by falling foul of VAT and customs duty regimes, because they don't consider or understand how these import charges apply.
The basic principle is straightforward; where products are bought into free circulation in the UK from outside the EU, they are imported and must be declared to HM Revenue and Customs (HMRC). You will need to pay VAT at the point of importation, generally at the standard rate of 20%.
If customs duty is also applicable, the VAT is calculated on the price that includes duty. So it's essential to review the rate of duty in advance, as duty is an absolute cost which can't be recovered, and you could easily end up over-paying. Import VAT can be reclaimed, but only if you hold a valid import VAT certificate (C79). Importers should also apply for an EORI number – essential should the UK leave the EU.
Timing of the import is also important. For example, import VAT paid at the start of a quarterly VAT period cannot be claimed for up to four months.
---
Plan ahead as HMRC look closer
---
HMRC recently issued guidance (Revenue and Customs Brief 2 of 2019) indicating that they will be looking more closely at the validity of import VAT claims. If you, as the importer, do not hold legal title to the goods at the point of import, HMRC are set to disallow the VAT on such imports as from 1 April 2019.
So understanding the terms of the sale, and at which point you or your business becomes the owner of the goods, is again essential in identifying if any import VAT incurred may be non-claimable. Payment for high-value items is often made in stages and legal title may not pass to the customer until the last payment has been made; under the new rules, this may mean your import VAT claims may be invalid.
If the correct details are not declared to HMRC at importation, then VAT recovery may be impacted. It's vital to check the position thoroughly in advance of the arrival of the goods, as well as how much import VAT and customs duty are payable and how this will be paid. Unfortunately, many businesses that are infrequent importers fail to plan ahead and don't identify the procedures which need to be in place. These businesses may then incur irrecoverable costs, and find that their cashflow and budgets are severely impacted.
---
Make sure no VAT charge is applied by the supplier (while the UK is in the EU)
---
While the UK is in the EU, the rules regarding the movement of goods between EU member states means there should be no net VAT cost involved. As a customer, you need to ensure no overseas VAT charge is applied by the supplier by providing them in advance with your UK VAT number. The goods must also be sent directly to the UK, or overseas VAT complications may arise. There are no customs duty charges if the goods are in free circulation within the EU when sold to you. Acquisition VAT needs to be accounted for on your VAT returns.
If the value of your EU purchases exceeds £1.5 million per calendar year, you will need to submit statistical returns to HMRC. If the UK leaves the EU, all such transactions will become imports. There are some simplified procedures in place to mitigate the administration and cash flow impact of import VAT costs and declarations, although generally these are of benefit only to regular importers of non-EU goods. HMRC has announced that postponed accounting for VAT on imports will be reintroduced, if the UK leaves the EU without a deal.
Typically, high-tech products such as energy producing machinery and plant will need siting, constructing, checking and commissioning once it has arrived in the UK. The overseas manufacturer may do this, or may use a European-based agent. If your business acquires goods under a combined 'supply and install' contract the supplier may be UK VAT registered. If they are EU based, you may need to account for the VAT on your VAT returns under a current VAT simplification arrangement.
In summary, when buying any goods from overseas suppliers, it is worth checking the cost and cashflow implications before entering into contracts. We help clients identify both commercial economies and tax savings when planning overseas purchases, and would be pleased to help you.
"Many businesses that are infrequent importers fail to plan ahead, and then incur irrecoverable costs."
---
---