Press enter to begin your search
Old Mill Updates
More than £3,000 raised for Lofty Therapy Horses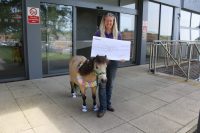 On Friday 28 June we welcomed Peanut, an American Miniature horse, into our office in Yeovil to accept a cheque for £3,252.85.
Peanut – a therapy horse – is one of five miniature horses from Lofty Therapy Horses, a not for profit organisation, that helps people with learning difficulties and mental health issues through animal-assisted therapy.
Lofty Therapy Horses was our chosen cause for the year for our Yeovil office, and over the past 18 months we have managed to raise more than £3,000 through a range of activities including dress down days, a bake sale, a charity rounders match, donations and sponsorship of five employees who ran the Yeovil Half Marathon.
Lofty Therapy horses also attended the Royal Bath & West, Yeovil and Honiton Shows last year as part of the Old Mill trade stand – to help raise awareness of what they do, as well as raising funds and getting to meet lots of the general public who might not ordinarily get to meet them.
Lofty Therapy Horses was set up in 2015 by April Kibby, a former veterinary nurse, and her husband Steve, who works part time for Yeovil based charity The Hub, which also helps people with learning difficulties and autism.
Based in Ash, Lofty Therapy Horses takes its miniature horses to hospitals, hospices, nursing homes, day centres, schools and mental health facilities to visit patients and residents who benefit from interacting with the animals. They also work with young adults who have various learning difficulties and mental health issues and work closely with The Hub, offering regular therapy sessions to some of those people who attend.
Initially, April and Steve had just one horse – Lofty – but as the benefits of horse therapy has become more widely known across the community, they have since had Star, Peanut, Tinkerbelle and Marni join the team – all of whom have very kindly been donated.
April said: "It started completely by accident. My father-in-law was in a nursing home and we decided to take Lofty in to see him. It made such a huge difference to him and the other residents (as well as the staff) that word spread and we started visiting other nursing homes, and then hospitals too.
"The horses help people with learning difficulties, people who struggle socially – including those who are non-verbal – as well as people with anxiety and depression. Stroking and interacting with them is proven to lower blood pressure and has a really positive impact on people's mental and physical well-being."
Every year the team at each Old Mill office get to suggest who they would like to fundraise for, and then it's put to a team vote. Sarah Ditch, who works in our Yeovil office, had been following the work they do on their Facebook page and put Lofty Therapy Horses forward.  The money we have raised will cover Lofty Therapy Horses' running costs for around 9 months.
April said: "We were absolutely over the moon when we found out we'd been chosen as Old Mill's cause for the year. During the past 18 months we've done a few events together to raise awareness of what we do so we've got to know the staff really well, which has been fantastic. We can't thank them enough! This money will make such a huge difference and will really help us to help others."