Press enter to begin your search
Rural
Photovoltaic (PV) & Feed-In-Tariff (Fit) Schemes: Saving costs and increasing returns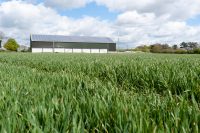 With farms and estates increasingly seeking diversification income and energy cost-saving opportunities, many of you will have invested in photovoltaic (PV) schemes of various scales. Now that the Feed-In-Tariff (FiT) scheme has closed to new entrants, the highest financial returns and the fastest paybacks are likely to come from reviewing and improving these existing renewables schemes. We asked Senior Consultant, Richard Palmer, at Roadnight Taylor to explain in more detail.
And whether it's a 4kW system on a barn roof or a 100kW-plus field-scale scheme, during recent health checks of solar photovoltaic schemes, we've discovered that many are carrying unnecessary costs and risks, as well as under-performing financially. The good news is that most of these issues are simple to correct; below are some of the key steps you can take to reduce costs and risks, and improve performance.
Check your insurance policy
It's vital for you to check your insurance policies. Underwriters are likely to need maintenance agreements in place or, at the very least, an annual performance check. If an array is not checked correctly, it can invalidate the policy and subject the scheme to unnecessary risk.
Specialist renewable energy insurance policies are expensive, and while they may cover breakdown, business interruption and material damage, they might not be appropriate for the relatively small size of most schemes. In some cases, photovoltaic systems can be adequately covered under existing land and property insurance – thereby realising valuable annual savings – but it's important to consider these arrangements according to the value at risk.
---
Review your commercial tariffs and revenues
The return on investment of an existing scheme will be driven by offsetting on-site electrical demand, generating Feed-In-Tariff revenues, and the sale of exported energy. There are often opportunities to achieve greater incomes for the power you export through your electricity meters. You should regularly review commercial contracts to make sure the best export arrangement is in place, and you are receiving the highest Power Purchase Agreement (PPA) prices.
---
Set up your metering contracts correctly
It's important to understand the on-site metering configuration – both for import from and export to the grid and the arrays. There's often confusion around the interaction between a supply contract, a Feed-In-Tariff contract, a PPA, a Meter Operator (MOP) contract, Data Collection and Data Aggregation contracts – and the measurement class which determines the method used for settlement. For example, the MOP provider must be the same for the import and export meters. Getting these contracts set up correctly is fundamental if your site is to achieve optimal commercial performance.
---
Business rates – Act before the VOA value your scheme
The Valuation Office Agency (VOA) is steadily but systematically reviewing the 24,000 non-domestic solar arrays across the UK. As a result, many are likely to be subject to business rates. While land and buildings used for agricultural purposes enjoy an exemption from business rates, this can change with diversification – including the deployment of renewables.
If a farm business is using over 90% of its on-site-generated electricity, it's normally exempt from business rates. For other installations the percentage of self-generated electricity consumed on site (as opposed to exported or consumed by a third party) could lead to significant business rate exposure.
As an example, we have just identified that a farming and farm shop client, who is using more than 90% of their generated electricity in the shop, will be liable for business rates in excess of £6,000 per annum unless appropriate action is taken.
It's important to act before the VOA value your scheme. The sooner you act, the lower the liability you may face. You need to review how much electricity your scheme generates and how much is used on site – and then seek professional advice on how to reduce your potential liability.
---
Physical faults and management agreements
There are also physical reasons that prevent arrays performing as well as they should, and you could be losing out on significant financial benefits as a result. In summary, these include:
Inappropriate metering arrangements (as an aside, if looking to upgrade or change meter points, it could impact eligibility for existing FiTs)
Shortcomings in the configuration and/or quality of the original installation
Electro-technical faults that have developed over time
Unsuitable and/or expensive maintenance and asset management arrangements
Inappropriate frequency of performance monitoring.
Installers are often commissioned to carry out annual health checks. As installers often configure arrays sub-optimally, they may not have the expertise to identify improvement opportunities – and if they originally installed the system, there is no incentive for them to highlight their own mistakes. An independent electro-technical assessment is, therefore, also crucial.
---
Investing in the array you already have will almost always pay back far faster than investing in a new energy scheme. Only once you're sure that your existing photovoltaic assets are performing optimally would we recommend investing in more solar or integrating battery storage into existing arrays.
This post was written by Senior Consultant, Richard Palmer, at Roadnight Taylor.
---