Press enter to begin your search
Old Mill Updates
Practical guidance for our rural and farming clients #36
In this week's Rural Update we take a look at: 
Direct Payments: lump

s

um exit scheme and delinked payments – have your say!

 

VAT update for rural business

es

Stamp Duty Land Tax: 

m

ixed-use claims

 

Reasons to buy business premises with your Pension

 
If you have any questions about any of the topics we discuss in this update or relating to your own business please do get in touch with your Old Mill adviser in the first instance, or alternatively click here…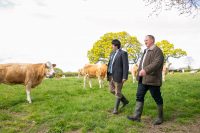 Direct Payments: lump sum exit scheme and delinked payments – have your say!
---
Agriculture has hit headline news with the prospect that the UK Government are considering paying older farmers to retire. 
The proposed lump sum exit scheme is believed to help those who wish to retire or leave the industry in a planned and managed way. There remain to be many 'unknowns' including the taxation of the proposed schemes together with how business structure changes may interact with eligibility, all of which DEFRA are working through to provide more detail in due course. It will be important to consider how these schemes will impact your wider tax position, including Inheritance Tax and available reliefs, therefore decisions should not be taken lightly or without discussion with your advisers. The consultation is a huge opportunity for the voice of the rural community to be heard and help determine the direction of these payments – so make your voice count! The closing date for responses is 11 August 2021. 
For a full breakdown of the proposal and links to have your say click here 
---
VAT update for rural businesses
---
In a general VAT update for rural businesses, our new VAT Director Len Dean flags a few key matters to look out for, including: 
Has lockdown impacted your income streams? Is your 

V

atable income lower than normal? Don't let this cause unfairly low VAT 

recovery

A reminder that VAT payments deferred during lockdown 1 are due for repayment but an instalment plan can be agreed

 

Since November 2019 individuals and partnerships can join VAT groups – useful to consider when restructuring, incorporating or tidying up your VAT.

 
For the full article click here. 
---
Stamp Duty Land Tax: mixed-use claims
---
It's quite common for those purchasing a residential property with accompanying land to assume the acquisition is mixed-use and therefore subject to the lower commercial property rates of Stamp Duty Land Tax (SDLT).  However, as demonstrated by several recent tax cases on this point, it isn't always this straightforward. 
If you're in the process of making a purchase, or indeed have done so recently take a look here. 
---
Reasons to buy business premises with your Pension
---
With growth in the digital economy and many people trading online you could be fooled into thinking that investing in commercial property is a risk too far, but many businesses still need a property, perhaps an office, shop or industrial unit to trade from and land or farm buildings for our more rural clients. For most of those businesses you either have the choice to buy or lease.  
Leasing a property is often considered 'dead money' and will not lead to any future gains but if you would prefer to buy there are many reasons to use a pension scheme to achieve this, here we will look at the benefits to the individual and business. 
Take a look at our article on Self-Invested Personal Pensions (SIPPs) for individuals and Small Self-Administered Schemes (SSAS) for employers here 
---
---
If you have any questions about any of the above please do get in touch with your adviser in the first instance, or alternatively click here…
---