Press enter to begin your search
Rural
Practical guidance for our rural and farming clients: December 2021
In this week's Rural Update, we take a look at:
Farming Investment Fund
Frome Fatstock Show
Tax and spend or spend then tax
Social Care charging reform
If you have questions about any of the topics we discuss in this update or relating to your own business please do get in touch with your Old Mill adviser in the first instance, or alternatively click here…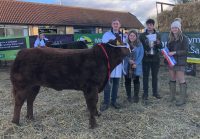 ---
Frome Fatstock Show
---
We were delighted, once again to support and sponsor the Frome Fatstock Show held at Frome Market last week, congratulations to Champion Pen of Lambs, M Knowles, with a pen of 43kg Suffolk Lambs and Reserve Supreme Cattle Champion, E Davies, with his 532kg Limousin Heifer.
---
Tax and spend or spend then tax
---
Head of Tax at Old Mill, David Maslen, assesses the country's tax burden and how clients may be contemplating a significantly higher tax burden than they've faced for some time. He discusses the key areas affecting many clients along with his initial thoughts on what can be done to mitigate their impact.
Wage inflation and employment taxes
Corporation Tax rates
Are companies paying the price?
What business owners should be doing
What can your accountant or tax adviser do to help?
Read the full article here.
---
Social Care charging reform
---
With an aging population increasingly relying on social care, Andrew Page takes a look at the government reforms on social care including:
"Board & Lodging costs"
Minimum income
How is the cap calculated?
What will people have to pay for their care?
What might this mean for me?
Read the full article here.
---