Press enter to begin your search
Think Tank
Ten key points for financial success in 2021 – cash is king!
Our rural accountants have come up with some tips for farmers and rural businesses to preserve their financial stability over the coming months: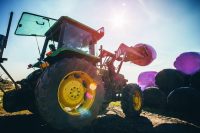 1. Understand your financial position
---
Do you know what your cash flow looks like for the next 12 to 18 months? Even if you think you're sure of this, test yourself and ask, for instance, what will happen when your Basic Payment is reduced this year.
---
2. Communicate with your bank
---
The days of just ringing up a lender when you get close to the overdraft limit to ask for an extension have largely gone. Consider speaking to your bank manager at an early stage, banks will, quite rightly, expect some indication of how long that extra facility is needed for, ideally supported by cash flow forecasts and some assessment of the business' ongoing profitability, including up to date accounts.
---
3. Agree credit terms with suppliers
---
Suppliers within agriculture (and other industries) will understand the difficulties that COVID and Brexit has presented. Affordable credit terms may aid your cash flow; therefore, it might be worth getting in touch with your suppliers to negotiate affordable terms. In many cases suppliers will have prepared for this and will be happy to agree payment plans to secure ongoing business from their customers.
---
4. Better management information
---
To aid your understanding of the business, use the current climate as a driver to improve the management information you have on the business.  In many cases, your software package or farm secretary may be able to generate this automatically with little additional work.
---
5. Look over the hedge…
---
With better management information comes a great opportunity to benchmark your business' performance against others in its sector.  Discussion groups and consultancy firms provide this opportunity, and many businesses that have successfully cut their costs of production over the years have done so by regularly benchmarking their results to identify areas for improvement.
---
6. Tax Credits
---
If business profits have fallen or are expected to do so, there may be support available in terms of Tax Credits, particularly for those with younger children.
---
7. Educational support
---
Likewise, if profitability has reduced and cash is tight, consider speaking to educational providers, for instance school bursars or university/college offices to see if there are any ways they can assist, such as bursaries or grants.
---
8. Take a holiday!
---
Many businesses will have loans which are structured on a repayment basis.  Banks will understand cash flow difficulties at present and in many cases will be happy to agree a 'repayment holiday' for the capital element of loan payments. Again, a clear plan to the bank as to how long you would like that holiday to last and when you plan to start the capital repayments again is important.
---
9. Can you use your pension fund?
---
For those with funds sat in their pensions, there may be an opportunity to release these to provide extra funds to support the business, together with understanding when you're entitled to your state pension which may aid planning over the next year or so.
---
10. Can you reduce your tax bills?
---
Working closely with your accountant has never been more important both to reduce and/or defer tax liabilities as far as possible. This could range from simple options such as reducing July/January payments on account if this current year's profits are expected to be lower, to more fundamental changes such as altering your business structure to reduce any level of income taxed at the high rates.
If you are looking for advice with accounts, tax or financial planning, please do not hesitate to contact the rural team at your local Old Mill office or click here…
---