Press enter to begin your search
Events
The Oxford Farming Conference – putting politics under the spotlight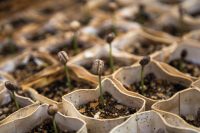 The Oxford Farming Conference – putting politics under the spotlight
---
Rarely has politics been so much in the farming spotlight as this January, with the Agriculture Bill a hot topic at the Oxford Farming Conference (OFC), followed by a series of controversial Brexit votes. But what does all this mean for rural businesses?
The OFC offers British politicians the chance to get up in front of the farming industry and convince us that they're on our side. It's also supposed to be an occasion when they get to listen to counter-arguments and take on board new perspectives. But while Environment Secretary Michael Gove talked the talk, he left many wondering if he walks the walk.
As ever, there was pleasant rhetoric about how supportive the Government is of British farmers. But there are some glaring omissions in the Agriculture Bill as it stands, serious concerns about Brexit trade negotiations, and continued stifling of innovation which is so essential to the industry's future success.
So what were the main topics of the day at the OFC and its popular neighbour, the Oxford Real Farming Conference? Of course, Mr Gove was the headline act, arguing that it's essential to secure support for the way in which public money is spent on agriculture. He suggested creating an explicit link between public spending and benefits, like better soil, air and animal welfare, with incentives for carbon sequestration.
He confirmed that the 5ha minimum size for receiving support will be removed after the Brexit transition period, but was criticised for not focusing enough on food production in the Agriculture Bill. Indeed, the Union Debate – arguing that the country would be better served if farmers focused on profits not public goods – was passed 76% for and 24% against.
---
British production standards and trade deals
---
One of the biggest discussions revolved around British production standards and trade deals. While politicians offered platitudes that trade deals would not undermine high British standards, it seems there is little appetite for enshrining this in writing – let alone law.
Farmers' main concern is that UK production standards will be maintained, while import standards will be lowered, with a Farmers Weekly poll showing that 92% of respondents do not trust the government to protect British farmers from cheaper food imports, produced to lower standards, post-Brexit.
However, it's not all doom and gloom: a series of AHDB reports launched at the OFC suggested that a focus on food safety, British heritage and competitive pricing will boost agri-food exports to key markets like China, Japan and the US. With food safety and high quality of great importance in these destinations, it could open the door for both premium and traditional products.
Sir Lockwood Smith, the former New Zealand trade minister, was also encouraging, insisting that opening our doors to trade – under the right conditions and agreements – will stimulate innovation and boost both productivity and investment.
---
Phasing out subsidies in favour of payment for environmental goods
---
With subsidies set to be phased out in favour of payment for environmental goods, the government is committed to helping farmers to meet changing market and consumer demands. There is currently a reasonable pot of grant money available to encourage investment in new farm technologies, research and practices, and we would suggest that everyone make the most of this funding while it is available.
---
Change is inevitable
---
Politics aside, NFU president Minette Batters said that climate change is one of the greatest challenges facing the industry, and mentioned an ambition to reach net zero greenhouse gas emissions across agriculture by 2040. While some raised concerns that this would damage livestock production, is it a better option than a tax on meat, mooted by Green Party leader Caroline Lucas?
Gene editing could be one of the answers to industry demands – but it must not be mixed up with the far more controversial genetic modification. Developments in gene editing are already producing pigs that are resistant to certain diseases, and wheat that requires less chemical inputs. Good news for the whole industry, but it is essential that such a debate be made with clear language and clear heads.
Science is not the enemy, and there was plenty of discussion about how better use of science and data can boost agricultural productivity while minimising environmental impacts and costs. Of course, not every solution will suit every farm system – the key is to examine what opportunities are available and embrace them.
---
The importance of constantly changing as a business
---
Rarely has the rural industry had such an uncertain future ahead, but there are always aspects within your control. Sir Ian Cheshire, chairman of Barclays and of the Food, Farming and Countryside Commission, emphasised the importance of constantly changing as a business, identifying what the consumer wants, and focusing on business resilience.
"Adaptability is the single most valuable thing any business can have, and even in a business as deeply rooted in tradition as farming, that is a great opportunity."
---
Sir Ian Cheshire, chairman of Barclays and of the Food, Farming and Countryside Commission.
---
Constantly striving to help you improve your business
---
At Old Mill we are constantly striving to help you improve your business; if you would like to talk to us about any of the issues covered here, please do get in touch.
---