Press enter to begin your search
Think Tank
Which Spring Budget announcements affect farmers?
It was no surprise that pandemic support measures were front and centre of the March Spring Budget, with the Chancellor promising to continue to do 'whatever it takes' for a swift and sustained recovery. But what were the finer details impacting the farming and agricultural sector.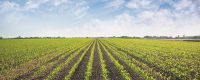 Limited Companies
---
The key announcement from a Corporation Tax point of view is that the main rate of Corporation Tax will increase to 25% from 1 April 2023. Whilst a rise of 6% from 19% where we are at present does not sound too significant, the reality is an increase in headline tax liabilities of 31.6%.  This means if we compare on a like for like basis with our current year the tax liability changes as follows: 
| | | |
| --- | --- | --- |
| | 2021 | 2023 |
| Profit | 250,000 | 250,000 |
| Tax Rate | 19% | 25% |
| Tax Due | 47,500 | 62,500 |
This significant rate increase will therefore mean in the above example that the company will have £15,000 less to look at repaying debt, investing in capital expenditure, or withdrawing profits for the shareholders.  
Smaller companies with profits of under £50,000 will continue to pay at the 19% Corporation Tax rate with a marginal rate adjustment for profits between £50,000 and £250,000. 
The flipside to this is the announcement of the 'super deduction' at 130% for the next two years, being 2021 and 2022. This effectively is an enhanced capital allowance with no higher cap and has been introduced to encourage investment, and agricultural businesses tend to need significant levels of investment in new kit to keep them operating profitably. The result of this is that for every £100,000 invested in plant and machinery and qualifying expenditure in buildings you will receive a reduction in tax of £24,700. The Government's logic behind this seems to be that by encouraging business investment over the next couple of years, businesses will become that bit more profitable to be able to fund the increased Corporation Tax liabilities that will be introduced in 2023. But whilst the super deduction sounds exceptionally attractive (indeed we had clients calling us straight after the announcement to ask when they should start spending the money!) it is worth bearing in mind that when the super deduction is no longer available, the reduction in tax due to spending that same £100,000 on a tractor in 2023 will be £25,000 – therefore almost identical! 
The key principle here is to look at timings of purchasing new equipment very carefully and indeed for a company it's very likely that you will be better off delaying the purchase of any new kit until after 31 March 2021.  
The other main announcement alongside the change in rate and super deduction is the enhanced loss rules. This will allow companies to carry back losses not only to the prior year but also the two years before that. The combination of these three principal rule changes mean that one size doesn't fit all but looking carefully at that combination could give significant tax savings when considering the timing of your capital expenditure.  
---
Partnerships and Sole Traders
---
Whilst partnerships and sole traders do not get the benefit of a super deduction the main rates of Income Tax have not changed. However, they do get the benefit of the extended loss rules which means any losses incurred in the year ending 5 April 2021 and 5 April 2022 can potentially be carried back three years. This could release large amounts of previously paid tax providing a significant cash flow benefit to the business. 
Whilst companies do get the benefit of the super deduction whereas sole traders and partnerships do not, this will undoubtedly trigger a lot of questions over whether now is the right time to incorporate your business. Whilst the short-term benefits from the super deduction can look very attractive, the 25% rate of tax will prove a deterrent for many. In many circumstances incorporation may well be the right way forward but this needs to be carefully analysed on a case by case basis. A big factor in whether incorporation will be right often comes down to whether profits will be retained within the business possibly to reinvest or to repay debt or potentially extracted for personal use by the shareholders.  
---
Value Added Tax
---
If you operate a hospitality or tourism business alongside the farming enterprise the current (temporary) reduced VAT rate (5% VAT) applicable to specified supplies in the hospitality sector is to continue up to and including 30 September 2021. As from 1 October 2021, the VAT applicable rate to these supplies will then change to 12.5% – a newly introduced interim VAT rate – which will continue up to and including 31 March 2022. The VAT rate is then planned to increase back to the standard rate (currently 20%) from 1 April 2022. This will apply to holiday accommodation, tent and caravan holiday pitch fees as well as on site catering and take-away. 
Farmers and landowners now seemingly have a prime opportunity to invest in their business and receive beneficial tax relief.  And with no mention of changes to Inheritance or Capital Gains Tax, now looks to be an opportune time to review business plans.  As with all opportunities, the devil will lie in the detail and we advise you consult with your Old Mill adviser to assess what is best for your business and your family.   
---
---