Press enter to begin your search
COVID-19
COVID-19: Help to Grow Programme
As part of a package of measures to improve productivity in the UK to make businesses more competitive, Rishi Sunak announced a new Help to Grow Programme that appears to replace the Kickstart Grants that were available last autumn.
There are two strands to this initiative, namely, a 'management' track aimed at senior managers of more established businesses, and a 'digital' track that offers advice as well as discounted software.
The website https://helptogrow.campaign.gov.uk/ is asking businesses to register their interest now.
So, what are the details?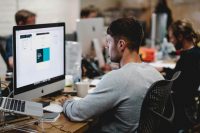 Help to Grow: Management
---
30,000 places will be available over three years and the programme is 90% subsidised by Government with participating firms charged £750. This initiative starts in June.
To be eligible businesses need to have been operating for more than a year and have between five to 249 employees. The programme is open to decision makers or member of the senior management team within the business (e.g. Chief Executive, Finance Director etc).
This is a twelve week programme delivered by leading business schools that combines 'a practical curriculum, with 1:1 support from a business mentor, peer-learning sessions and an alumni network.'
Click here to register for Help to Grow: Management
---
Help to Grow: Digital
---
This second strand offers free, impartial advice on how technology can boost firms' performance through a new online platform. Businesses that qualify will receive a voucher and the programme will begin in the autumn.
To be eligible businesses must:
employ between five and 249 employees and be registered at Companies House
have been trading for more than 12 months
are purchasing the discounted software for the first time.
The scheme will offer a discount of up to 50% on the costs of approved software, worth up to £5,000. Vouchers are initially expected to be available for software that helps businesses:
build customer relationships and increase sales
make the most of selling online
manage their accounts and finances digitally.
Click here to register for Help to Grow: Digital
Chris Bowles, a director at Old Mill's Wells office comments 'Whilst we welcome any initiative that facilitates growth through improved productivity gains, it's slightly disappointing that there will be many, many businesses that won't qualify because either they're too small or are in the start-up phase. These are the types of firms that would benefit hugely from this type of support programme, but the Chancellor appears to have left them out in the cold which seems a bit odd.'
---
---