Press enter to begin your search
Think Tank
Guest spot: Finding opportunities amid uncertainty – Chris Jones, Independent Chartered Surveyor
Farmers are facing unprecedented change, and with that, great uncertainty. New farming legislation, Brexit and trade deals pose some worrying threats. But it is easy to lose sight of the full scope of the coming reforms and to focus on the worst case.
Human nature dictates that uncertainty around trade agreements and financial support will be prioritised as the short-term issues, but in standing back from the immediate anxieties, there are grounds for positivity, and now – more than ever – is the time to embrace those.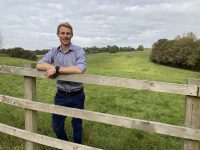 1. New opportunities
---
The Agriculture Bill addresses reform of the supply chain to include increased transparency in contracts, with an onus on fairness and information exchange.
While this doesn't signify a switch in market forces, Covid-19 has shaken supply chains, and empty supermarket shelves illustrated that food is not a given. The Government cannot afford food shortages or rapid inflation, with food safety and consumer confidence as newly emerging measures of the National Food Strategy. It will not be allowed to simply let market forces dictate the balance of products available to UK consumers.
The Agriculture Bill also seeks to amend the regulation around producer organisations, which could pave the way for more meaningful producer amalgamation with real market influence.
---
2. Sustainability
---
Interest in diversification, new markets and innovation has accelerated as uncertainty grows around the future for agriculture. It is encouraging to see businesses reassessing their health and planning for long-term resilience; this will inevitably lead to new sub-industries and investment.
However, there is a risk of losing focus on the farming enterprise, which in most cases remains the key business component. UK agriculture is second to none in terms of quality, traceability and welfare. The emerging free trade deal with Japan should breed confidence that UK produce is highly valued by major global players.
Farming methods that balance profitable production of high quality food along with the natural capital we look after is the only way to brand the industry in the long term and secure public support.
At farm level, that translates into re-assessing operations and making practical changes. Incremental 1% changes made across the board are often far more effective than a drastic shift; so benchmarking soil health, experimenting with crop rotation, assessing machinery use efficiency and exposure to price sensitivity will help agricultural businesses to evolve.
---
3. Commoditising natural capital
---
The Environment Bill could have even greater effect on the industry than the Agriculture Bill. At the forefront of the agenda is climate change mitigation by removing, trapping and storing carbon, as well as pollination, flood alleviation, public health and wellbeing.
Agriculture has huge potential to extract value from managing natural capital. In the immediate future, biodiversity net-gain is now integrated into National Planning Policy, with an impending obligation for developers to provide a 'net gain' in natural habitat (of up to 10%) where construction damages the environment. Farmland with scope for biodiversity enhancement will therefore be subject to increasing demand.
The emergence of a meaningful carbon market may also pose opportunities, as the value of sequestration is recognised legally and via corporate responsibility.  As private demand for carbon credits gathers momentum the market will take shape. Early adopters of accounting for on-farm assets and natural capital enhancement stand to get ahead of the game.
---
4. Collaboration
---
Landscape scale 'stewardship' will become more important, particularly in relation to nature recovery strategies. Farmer-led cluster groups providing a widescale environmental asset could both demonstrate the industry's capabilities and attract 'natural capital' investment from the private sector.
At farm level there may be other opportunities to benefit from collaboration, through machinery syndicates or flexible share farming contracts, for example. Fanciful thinking perhaps, but is the prospect of neighbouring farms joining forces to promote their own produce, environmental management and to share operational input achievable?
---
5. Control the controllables
---
Trade deals and macro-politics are beyond the control of most. Lobbying and representing the industry is important, but individual focus should remain on factors that are under farmers' control. Whether this is cost management, improving performance, understanding business finances or long term 'visioning'; there is more to be gained from changing things we can directly influence.
Our industry does have the ability to adapt and evolve in recognition of changing conditions. Now more so than ever, playing to our strengths and looking to opportunity is vital.
Chris Jones MRICS
Chartered Surveyor
E: chrissbjones@gmail.com  M: 07881 957414
---