Press enter to begin your search
Old Mill Updates
Old Mill named one of the best employers in UK by prestigious industry awards
We are delighted to announce that Old Mill has been named as one of the Best Financial Advisers to Work For by the Professional Adviser Awards.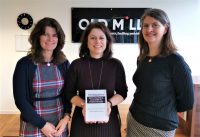 The Best Financial Advisers to Work for is a survey and awards programme dedicated to identifying and recognising the best employers in the UK.
At Old Mill, we have 74 employees in our Wealth Management team, across our four offices in Yeovil, Wells, Exeter and Melksham, and we were one of just 13 firms to make the grade and the only South West-based company to win the award.
---
The award process is managed by Best Companies Group – an independent research firm specialising in identifying and recognising great places to work.
The judges gather detailed information about financial firms including a thorough company assessment and honest and in-depth feedback from employees.
They looked at all areas of the business from leadership and planning, and work environment, to training and development, pay and benefits, work satisfaction and corporate culture.
---
Paula Hodge, Head of Wealth Management at Old Mill said: 'We pride ourselves on creating an inclusive and engaging working environment, always encouraging the development of our people and giving them every opportunity to progress.'
'We are a people business and as such we put both our clients and our staff at the centre of everything we do. We are incredibly proud to win this award which we feel is a much-valued external endorsement to the focus we place on creating an enjoyable and fulfilling working environment for everyone at Old Mill.'
'We are extremely fortunate to employ individuals who live and breathe our values and who work immensely hard, day in and day out, to deliver great client service. It is very much our people who make Old Mill a great place to work, or should I now say, an award-winning place to work.'
---
Chartered Financial Planner, Carolyn Matravers, and Paraplanner Jane Beauchamp of Old Mill attended the awards evening. Carolyn adds 'It was a real honour for Jane and I to be asked to attend the dinner and collect this award on behalf of the team.  It was a very enjoyable evening and great to be recognised in this way, providing a real opportunity to raise Old Mill's profile.'
Professional Adviser editor Tom Ellis said: 'It's fantastic we are able to put on these awards to identify, honour and celebrate all the very best from our readers, the financial adviser community.'
"We are a people business and, as such, we put both our clients and our staff at the centre of everything we do."
---
Paula Hodge, Head of Wealth Management
---