Press enter to begin your search
Old Mill Updates
Old Mill strengthens Wealth Management team with appointment of Neil Rushton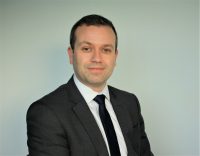 Financial experts Old Mill have appointed Chartered Financial Planner and Fellow member of the Personal Finance Society, Neil Rushton, to the Wealth Management team.
The 39-year-old has more than 18 years' experience in financial services having held roles across the sector. Neil joins Old Mill from independent financial planning firm Citimark, where he looked after a portfolio of high net worth clients, helping them explore aspirations and achieve financial independence.
In his new role, Neil – who specialises in retirement and estate planning – will be based at Old Mill's Wells office. He will work within the Wealth Management team providing financial advice and guidance to high net worth clients either nearing retirement or already retired, to help them achieve their ambitions.
---
A keen runner and cyclist, Neil, who lives with his wife Nicky and two young children in Draycott in Cheddar, says he was drawn to Old Mill because of its high standards, excellent reputation and people-centric culture.
Neil said: 'Old Mill's fantastic reputation for providing professional private client services in the South West, its commitment to going well beyond regulatory standards and its culture – which centres on delivering an exceptional client experience – hugely influenced my decision to join.
'A personal, professional and friendly approach, with a commitment to putting client's needs first is critical in my opinion and appears to culturally align with the values of the business.'
Paula Hodge, Head of Wealth Management at Old Mill says it was clear right from their first meeting that Neil's values were perfectly aligned with those of Old Mill and that he would be an excellent addition to the team.
'It is actually quite rare to find someone like Neil, who has so much experience and whose beliefs and values are synonymous with Old Mill's, so we are thrilled he is joining us.
'Having worked in a regional financial planning firm, a national accountancy practice and a private bank, Neil will be able to bring valuable insight and new ideas to help us further enhance our client experience.'
---
Neil said he feels privileged to be joining one of the most highly respected financial services firms in the region and is looking forward to 'contributing to the high professional standards' set by Old Mill.
'I already feel so welcome here and know I will get all the help and support I need to achieve my personal and professional goals.'
Paula concludes: 'At Old Mill, we pride ourselves on encouraging our people and giving them every opportunity to progress, so we are delighted Neil is joining us and look forward to him pursuing an exciting career with us.'
Neil will be able to bring valuable insight and new ideas to help us further enhance our client experience.
---
Paula Hodge, Head of Wealth Management, Chartered Financial Planner
---