Press enter to begin your search
Accounting Excellence Awards 2023
Old Mill's Opportunity to Shine as a Triple Category Nominee
We are proud to announce that Old Mill has been named as triple finalists in the Accounting Excellence Awards 2023.
Organised by industry experts, the Accounting Excellence Awards aims to honour outstanding accomplishments and commend best practices within the accounting profession. Old Mill's nominations reinforce our status as a leading player in the industry, providing exceptional services across the board.
We have been nominated in three distinguished categories: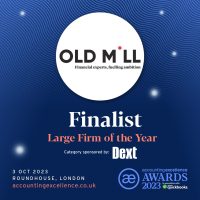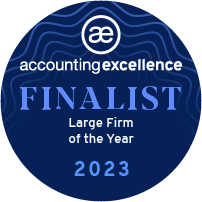 Large Firm of the Year   
The nomination in the Large Firm category signifies Old Mill's exceptional growth, outstanding performance, and continued success in delivering top-notch accounting and financial solutions. We take great pride in tailoring our services to meet the unique needs of each client, ensuring their financial success and peace of mind.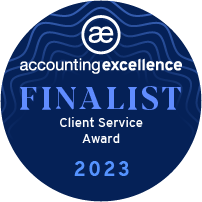 Client Service Award     
In recognition of our steadfast commitment to delivering exceptional client service, Old Mill has also been nominated in the Client Service category. We firmly believe that strong relationships are at the core of our success, and this nomination highlights our dedication to offering personalised guidance and proactive solutions that go above and beyond our clients' expectations.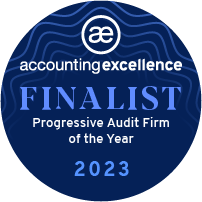 Progressive Audit Firm of the Year 
We have also had our pioneering approach to auditing practices acknowledged with a nomination in the Progressive Audit category. This nomination demonstrates our commitment to innovation by embracing state-of-the-art technologies, remaining at the forefront of industry developments, and enhancing the efficiency and effectiveness of our auditing processes.
---
The winners of the Accounting Excellence Awards will be unveiled during the awards ceremony to be held in London later this year. This highly anticipated event will bring together industry leaders, influencers, and professionals from across the accounting sector.
Old Mill extends its sincere gratitude to the Accounting Excellence Awards panel for recognising our achievements and congratulates all the nominees across the various categories. We remain steadfast in our commitment to surpassing client expectations, driving innovation, and making a positive impact on the accounting profession as a whole.
---
Kevin Whitmarsh, CEO, "We are tremendously proud and honoured to be nominated in three prestigious categories at the Accounting Excellence Awards.  These nominations reflect the hard work and dedication of our exceptional team, who consistently go the extra mile to provide outstanding client service and maintain the highest standards of professionalism."
---