Press enter to begin your search
Old Mill
Open for Business and Ready to Audit Companies
In the complex landscape of auditing, a significant issue has emerged that directly impacts owner-managed businesses. Referred to as 'audit orphans,' these companies find themselves in a vulnerable position as larger audit firms focus their attention on addressing regulatory challenges and improving audit quality. As a result, mid-tier audit firms are stepping in to pick up a greater number of listed clients, leading to a situation where existing clients may be dropped or receive less attention from their current auditor.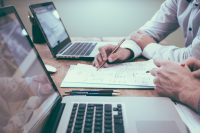 Addressing the Industry Challenges
---
The task of improving the UK's audit market continues, and significant challenges are arising. There is a widespread dissatisfaction with the quality of audits, highlighting the relaxed relationship between auditors and company management, which has been fuelled by years of low-margin compliance work and the promise of more profitable consultancy services.
Another longstanding concern is the highly concentrated market, with only one FTSE 100 company audited by a non-Big Four firm (a small step forward). Remarkably, approximately 90 percent of the top 350 listed companies rely on the Big Four for their audit needs.
Adding to these concerns is the mounting risk that large listed companies may struggle to secure the services of an auditor. This latest development compounds the challenges already faced by the audit market, presenting yet another hurdle that needs to be addressed.
---
So why do I care about the challenges facing listed companies?
---
At Old Mill, we have observed a growing number of smaller, family-owned businesses contending with auditors who appear to have lost interest or are struggling to deliver audits amidst increasing regulation and scarce auditor resources.
In the face of these challenges, we remain committed to serving our clients with unwavering integrity and independence. While most listed firms rely on the Big Four, Old Mill is here for owner-managed businesses. Our focus allows us to deliver audits that address the risks faced by smaller businesses, and we take pride in serving owner-managed businesses.
---
A Focus on You
---
At Old Mill, our unwavering focus is on serving businesses like yours. We understand the challenges and complexities faced by medium-sized, family-owned enterprises in today's audit market. Alongside an audit, we provide unbiased perspectives that align with your business objectives.
---
Our Doors are Open to Support Companies
---
We recognise the importance of having a reliable auditor to maintain transparency, credibility, and financial stability. The process of appointing an auditor and completing an audit can be daunting, especially without the added worry of finding one!
That's where Old Mill comes in. With our investment in audit technology, we are fully equipped to provide a first-rate audit service. Our experienced professionals possess deep knowledge and expertise, enabling us to address regulatory requirements and provide tailored solutions that meet your specific needs.
---
Bucking the trend to Recruit ahead of the Curve
---
The shortage of auditors in the industry, exacerbated by the pandemic, has posed a significant challenge for many firms. However, at Old Mill, we have proactively addressed this obstacle through recruitment. Our firm's aims, ambitions, and distinctive culture have played a crucial role in attracting top talent to join our team. We take pride in providing exceptional service to our clients and fostering professional growth and development.
---
Our Aims, Ambitions to Guide your Financial Journey
---
At Old Mill, our aims centre around delivering outstanding financial services and helping businesses thrive. We are committed to building long-lasting relationships with our clients and providing personalised solutions tailored to their unique needs. Our ambition is to be a trusted partner, guiding our clients through challenges and maximising opportunities for growth.
---
We are ready to help
---
While the issue of 'orphaned' companies may not directly trouble you, it is shaking up the audit market, inflating prices, and affecting service standards. We want to assure you that Old Mill is here to help. Our team is ready and equipped to provide the necessary audit services, ensuring compliance and financial stability for businesses in need. Moreover, our ability to recruit talented professionals is a testament to our aims, ambitions, and unique company culture. We invite you to experience the Old Mill difference and partner with us on your financial journey.
Contact us today to learn more about how we can support your business and its audit requirements. Together, let's overcome challenges and drive success.
---