Press enter to begin your search
Think Tank
UK agriculture – Let's lead from the front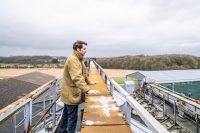 Having worked in the agricultural sector for nearly 20 years, I don't believe the industry has ever faced such uncertain times and this is the case across all sectors.
With Brexit being almost solely blamed for the current disastrous drops in commodity prices, is this just a storm in a teacup or is it masking a true shift in consumer habits? At the point of writing this article, Extinction Rebellion are causing havoc in London, supporting what is arguably a real problem with the wrong approach.
Representing UK agriculture
---
As the true fallout of Brexit is only just being understood, and therefore I will not comment in detail, I don't believe it can be solely blamed. What is clear is that consumer eating habits are changing and their expectation of what a farm should be is often widely different to the reality of the current practices. Veganism is widely cited as an issue but I believe the true issue is the constant misrepresentation of UK agriculture promoted largely through social media campaigns. Pictures and video clips of livestock units outside the UK are frequently used to tarnish and destabilise UK farming practices. I am proud of UK agriculture and I believe it is time for us all to lead from the front, proactively engaging with consumer groups to develop sustainable farming practices across all sectors, whilst contributing to policy change.
---
A shift in mind set
---
We all recognise the issues currently facing the industry; of bull calves, antibiotic use in the livestock sector, excess chemical applications in the arable sector, to name just a few. However, I do believe these can all be overcome with a shift in mind set, recognising that such issues are a priority to address as part of any planning process. Sexed semen is just one technology which is now far more reliable than it once was and is an obvious mechanism to prevent the need to shoot dairy bull calves. Setting bold targets, such as eradicating the practice, in no more than five years should not be shied away from. Selective breeding and genomics also have a clear place to helping reduce antibiotic use. Cover crops, companion cropping and working with the livestock sector provide opportunity to the arable sector to reduce soil erosion as well as solving problems such as the flea battle. With a positive approach, UK agriculture can position itself as sustainable and, as a result, up-sell our products and demand the price we all need to earn an honest living.
---
A focus on the environment
---
Coupled with this comes the positive effect we can have on climate change. We need all levy paying farming bodies to step up to the plate, and through science and technology truly defend UK agriculture whilst providing profitable solutions to meet the public's expectations. Change is always frightening, but it is absolutely key to survival in the next five years. Subsidy reform, regardless of the current agriculture bill, I believe will now only ever focus on the environment and wildlife as priority for payments which should also bring opportunity. Many farms already do their bit, but provided we can communicate and work with the policy makers, UK agriculture can evolve for maximum benefit for all provided a profit is achievable.
---
Becoming the solution
---
As farmers and landowners, we are a key component to reducing carbon from the environment, putting in place crops and woodland to positively remove carbon from the atmosphere. With the right promotion we can become the solution not the problem, joining up with airlines and other such corporates to help them offset their carbon footprint.
---
I summarise by saying it's time to lead from the front. With eating habits changing, the constant desire to produce more could be the wrong approach and instead we should be working with the consumer to farm sustainably for the benefit of all.
---