Press enter to begin your search
Supporting growth and expansion
Case study: Bill Butters Windows
Supporting growth and expansion is our specialty at Old Mill. Learn how our expert teams helped Paul and Matt navigate financial challenges and optimise their business operations.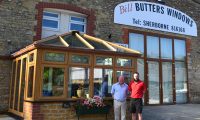 Client Background
---
Bill Butters Windows is a family-run business based in Sherborne, Dorset, with over 30 years of experience in manufacturing and fitting windows, doors, and conservatories. They are known for their high-quality products and services and cater to customers in Dorchester, Yeovil, Shaftesbury, Crewkerne, Gillingham, and nearby areas in Dorset.
Father and son team
Trusted experienced workforce
Strong supporter of local businesses
Manufacture and fit windows, doors and conservatories.
---
Transforming Growth and Efficiency
---
In 2018, Paul and Matt started working with Old Mill accountant, Matthew Jackson, as a way to complete their Annual Accounts and Tax Returns. However, they soon realised the potential for a deeper partnership that could drive their business's growth, improve efficiency, and provide valuable insights.
---
A collaborative journey with Old Mill
---
Embarking on a collaborative journey with Old Mill has been an empowering experience for our clients. As Paul and Matt continued to grow their business, we were there to support them, bringing in additional Old Mill specialists as needed.
Supporting Growth and Expansion
Our Corporate Finance Team played a pivotal role in assessing the financial health of their company, while our Financial Planning Team facilitated personal pension planning as part of a comprehensive tax strategy. We also collaborated closely with them to optimise their payment processing, exploring alternative payment patterns and implementing a streamlined deposit system.
Enhancing Financial Management through our  "Success Programme"
To enhance their financial management further, our Commercial Accounts Team and Digital Services Team customised their bookkeeping software, resulting in improved profit and loss data. In addition, we developed a Key Performance Indicator report with custom metrics for their quarterly management meetings. Complementing these efforts, our monthly 'Success Programme' made a remarkable impact on their cash cycle, generating significant improvements.
Our "Success Programme" has been instrumental in fostering proactive collaboration and driving our exceptional service. Through regular monthly sessions, we created a dedicated space for open discussions, enabling us to address key talking points and align our strategies with your evolving needs. These sessions have played a pivotal role in shaping our approach, ensuring that every action we take is a direct result of our ongoing conversations. By maintaining this consistent and transparent communication, we are able to deliver a truly collaborative and tailored service that goes above and beyond expectations.
Comprehensive Support
Beyond these achievements, we provided comprehensive assistance in various areas. This included optimising tax efficiency through share transfers, annual directors' remuneration planning, conducting P11D assessments, correcting staff loans and car benefits, reviewing and supporting accounting software, helping with the appointment of suitable finance staff, and facilitating succession planning meetings.
Dedicated Partnership
Throughout this collaborative journey, our team at Old Mill has been dedicated to delivering comprehensive financial solutions and becoming true partners in our clients' success. We remain committed to providing ongoing support and guidance as their business continues to evolve. Together, we will navigate the ever-changing financial landscape and unlock new opportunities for growth.
---
Taking the business to new heights
---
The collaboration between Bill Butters Windows and Old Mill has been transformational. By leveraging Old Mill's expertise and range of services, Paul and Matt are taking their business to the next level:
Informed Decision-Making
Access to accurate data and professional advice empowered Paul and Matt to make informed decisions that drive business growth and improvement.
Streamlined Processes
Old Mill's support and expertise streamlined payment collection, enhanced bookkeeping practices, and improved cash flow management.
Tax Efficiency
Through strategic tax planning and remuneration packages, Old Mill helped optimise the company's tax position and improve overall efficiency.
Personal Financial Planning
Old Mill's financial planning team facilitated pension planning for the directors, securing their personal financial futures.
---
A bright future
---
The partnership between Bill Butters Windows and Old Mill exemplifies the power of collaboration and the transformative impact of a dedicated professional relationship. By going beyond traditional accounting services and providing a comprehensive range of solutions, Old Mill has become an integral part of Bill Butters Windows' success story.
To find out more about Bill Butters Windows visit www.billbutterswindows.co.uk, Tel: 01935 816168 or Email: sales@billbutterswindows.co.uk.
If you would like to find out more about how Old Mill could work with you, enquire by clicking here…
---