Press enter to begin your search
Rural
Taking on the family farm: Advice for young farmers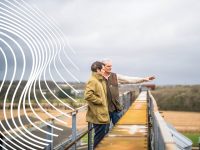 The transition of a farm from one generation to the next can be a complex and sensitive process.
We call this transition "succession planning" and this process often gets side-lined until there's no choice but to deal with it, as it can be a difficult subject to broach. And it's often a topic that is discussed with the older generation in mind, but the younger generations also need to plan their future, so what do they need to think about?
In this article we'll cover two broad areas to help the next generation of farmers;
Our 10 tips for beginning your farming career
How to take over the family farming business
---
Our 10 tips for beginning your farming career
---
1. Start young
Get involved with the farm work at a young age, but remember you're still learning. This is a prime time to learn as much as you can before you take on any responsibilities.
2. Make mistakes
You will make mistakes, so try to learn from them. Ask for advice from others but form your own views.
3. Broaden your horizons
Consider an academic course associated with farming. If you're on a family farm, maybe study something that aligns with it, like engineering or an advisory role. This will also help alleviate any feelings of being trapped on the farm.
It's beneficial to travel, read and gain work experience elsewhere. Doing this early in your career means you aren't tied to the family business and it will be both enjoyable and useful.
4. Communicate
Keep the dialogue open. Even if you aren't sure what you want, make that known, otherwise everyone else might second guess what you want.
If you want to work elsewhere, don't be afraid to say this, but be respectful. If your parents have concerns over the farm operating in your absence, explore ways of solving the issues.
5. Know your value
Be honest with yourself about your value in respect to the work you do on the farm and speak up if you feel things are unfair. When working for a family business, ensure you're paid what you could earn elsewhere.
Increase your wages steadily from teenage pocket money onwards, so the business can adjust accordingly. If you don't, it's a much bigger jump from 'no' wage to 'a' wage.
Be honest about what you expect to earn – check with other farmers what a similar role would pay.
But what if the business can't afford you? Treat any work you do as a loan to the business. Record your work through payroll so that a value is being attributed to your time and efforts. This can be converted to equity when buying into the business or paid out at a later date when the business can afford it.
Before becoming a partner it's advisable to be an employee: Don't expect to be treated any differently to a herdsman or relief milker.
6. Have realistic expectations
If you're returning from university or travelling, don't expect to come back and be herd manager immediately. Instead, you might be an assistant and work with the team to progress yourself.
Review your progress, update your CV annually and forward plan with your family. Be open about what you want to achieve.
Remember that you're not entitled to anything and you must respect the business owner's final decision, but you can communicate your thoughts, feelings and wishes.
Equally, you can't work forever without having any of your wants met. Sometimes leaving and branching out elsewhere is the best thing you can do.
7. Take on a challenge
Offer to take on the poorest performing or least enjoyable part of the business and make it your own, with the aim to improve it, gaining valuable skills and the respect of your parents and peers.
It's useful to break your teeth on a secondary element of the business so you can learn skills like management without too much risk.
8. Consult advisers
Always listen and take advice. This doesn't just mean the farm accountant or consultant, but also independent advisers if needed.
Where you can, get involved with bank or advisory meetings so that once you have some autonomy you will be on the front foot.
An adviser or consultant who has been with the farm for aeons may have your parents' best interests at heart but may also have a slightly blinkered view. Changing adviser can be a tricky subject, so don't bull your way through this and fall out with your parents.
9. Work with the team
Dairy farms are rarely a one-person operation and it's likely you will have to lead a team in the future. This means it's important to work well with them from the offset; be prepared to muck in and communicate effectively and respectfully – ensuring your messages are aligned with your parents'.
10. Invest off the farm
Using your salary to invest in your own assets – like a house – outside of the farm is a good safety net if things don't go to plan.
Keep this ringfenced from the business but remember it can be easily traded should you need the money to invest in the business. Or it can be sold or traded with your parents further down the succession process. Plus, any gains you make on your house are likely to be tax efficient.
---
---
How to take over the family farming business
---
There are three common ways of coming into a family business, which will depend on the current business structure and the preference of the parties involved:
Partnerships
If the current business is a partnership, you will likely go from being casual labour to an employee before becoming a salaried partner – this will allow for a certain level of control and ability to influence decisions at the same time as knowing what you're earning without getting any uplift from sales of land.
The final step is becoming a full equity partner – meaning you will get a percentage of the profits as your income and a proportion of any gains made on land sold.
It might be that you come in as a 5-10% equity partner and build up until you're completely in control – if that's the desired outcome.
Be aware that with partnerships you're jointly liable for any debts and can be pursued as an individual.
Also, in a year of losses you may not have any income – this doesn't necessarily mean there's no cash but it can make things difficult if you're trying to get a mortgage.
Make sure you have your finances in order before becoming a partner, so you can ride loss making years.
Limited companies
Like partnerships, you will likely start out as casual labour, then become an employee before becoming a director. This gives you additional control over the business and more responsibility for the day-to-day running. But ultimately you report to shareholders, meaning there is no outright control; there is generally a board of directors who each have a vote in the company.
Progression from director is to become a shareholder. At this point you start to take ownership of the business – though as a limited company it will never be 'your business', but rather you will have a percentage of it. As a working director you will remain an employee of the company.
This is more beneficial when mortgaging a house or taking out loans, but on the downside farmland is often held outside of the company, so be aware of how things are set out before you join.
Buying out the business
Where parents want to step back or retire and the younger generation want to invest, a takeover works well.
You will need to generate your own equity to either purchase shares or assets of the partnership or limited company.
It's a complex process so you need specific advice; there are pitfalls with finances and tax. Because of the complexity, a buyout is likely to take at least 18 months, but give it two years to get everything in place.
Another thing to be aware of is that milk contracts need to be passed on. It might be complex but will give you full control.
Agreements
Whichever route you choose to go down, it's important to make sure there are partnership or shareholder agreements in place – drafted by a solicitor – from the outset.
---
---
---