Press enter to begin your search
Discover the Exciting Partnership
Old Mill and Quro Financial Solutions
Old Mill is proud to announce our latest achievement: the acquisition of Quro Financial Solutions, a renowned specialist in commercial property pensions. This strategic move marks another milestone in our journey to becoming the leading provider of financial solutions in the South West.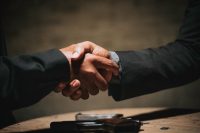 With Quro joining the Old Mill family, we are enhancing our ability to deliver exceptional service and innovative solutions tailored specifically to our valued clients. Their expertise in SIPP and SSAS schemes, coupled with our comprehensive range of services, creates a powerful synergy that opens up new possibilities for your financial success.
At Old Mill, we understand the unique challenges faced by owner managers seeking to purchase commercial property through their pensions. That's why we are thrilled to integrate Quro's exceptional capabilities into our already comprehensive pensions offering. Our partnership allows us to provide you with an extended suite of specialised services, all under one roof.
Quro's reputation for excellence is built on their unwavering commitment to client satisfaction. They go beyond offering access to SSAS (Small, self-administered pensions scheme) and SIPP (Self-Invested Personal Pensions); they provide full project management support, ensuring a seamless experience from plan inception to purchase completion. With Quro's client-centric approach now integrated into the Old Mill ethos, you can expect an even higher level of care and attention.
We know that a successful retirement strategy requires a holistic approach. By combining Quro's renowned expertise in commercial property pensions with our established strengths in accountancy, tax, financial planning, and wealth management, we offer you an unparalleled depth of knowledge and a comprehensive suite of services to support your financial goals.
The Old Mill and Quro partnership is a testament to our shared values of excellence, integrity, and long-term client relationships. Together, we will embark on a journey of growth, innovation, and continued success. Rest assured that our commitment to your financial well-being remains unwavering, and our talented team of professionals is ready to guide you every step of the way.
We invite you to join us on this exciting new chapter. Explore the expanded range of services and opportunities that Old Mill and Quro bring to the table. Experience the difference of a true partnership that is dedicated to your financial success.
---
At Old Mill, we are honoured to be your trusted partner, and we look forward to serving you with passion, expertise, and a shared commitment to your financial future.
Want to know what we can do for you and your business? click here…
---