Press enter to begin your search
News
Department of Education names Old Mill as one of England's top apprenticeship employers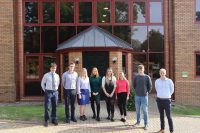 Old Mill has achieved the remarkable ranking of number 47 in the Top 100 Apprenticeship Employer Rankings. This recognition underscores our commitment to fostering exceptional apprenticeship programs, as independently assessed and ranked by the Department of Education.
The Top 100 Apprenticeship Employers  independently assesses and ranks the nation's leading apprenticeship employers based on the success of their apprenticeship programmes – specifically their commitment to creating new apprenticeships, the diversity of their apprentices, and the number who successfully achieve their apprenticeships.
Old Mill has been running an apprenticeship scheme for six years, and currently has more than 60 people on its apprenticeship scheme, 26 of whom have joined in the last 12 months.
We take on anywhere between 12 and 30 new apprentices each year, most of whom apply directly, and others come through the partnerships Old Mill has with local schools and colleges in the South West.
Old Mill's apprentices have fantastic career opportunities across the business – and many of those who joined in the first few years of the scheme are now on the firm's Junior Adviser Scheme which helps to fast-track development for those wishing to be an adviser – giving them real hands-on experience and client contact early on.
Speaking about the apprenticeship scheme, Chloe Lawrence – who joined as a trainee accountant last October – said: "Old Mill has always appreciated me as an Apprentice and provides me with all of the learning tools that are needed to carry out my work efficiently and effectively with the correct mentorship. My knowledge has grown through responsibility and having access to all other services within the firm to help me engage fully with my apprenticeship. Old Mill apprenticeship has helped me set up my accountancy journey and has helped shape my future career."
Adrian Stones, People Director at Old Mill, "For us, apprenticeships go far beyond numbers; they represent a genuine investment in our future. We firmly believe in providing a nurturing environment where our apprentices can thrive and flourish. Through comprehensive training programmes, mentorship, and access to industry-leading resources, we equip our apprentices with the skills and knowledge needed to forge prosperous careers.
"We are immensely proud of our apprentices' achievements and the significant contributions they make to our firm and clients alike. Together, we continue to shape the future of our industry, delivering exceptional services and innovative solutions to our valued clients."
---