Press enter to begin your search
Old Mill Updates
Our new approach to charitable giving; introducing The Old Mill Fund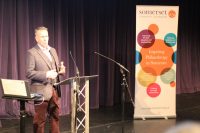 As a local business in the heart of Somerset, Devon and Wiltshire, supporting local causes and charitable giving is really important to us. We have a strong history of giving back to our communities, and we wanted to build on this and make a long-term, strategic commitment to help small local charities in the communities where our clients and colleagues live and work.
We are proud to have worked with Somerset Community Foundation (SCF) to create The Old Mill Fund; the new home for our charitable giving. Our new strategic partnership will help to support local charities, community groups and individuals across the three counties in three key areas, identified by research. These are;
Building brighter futures: helping young people to build skills, confidence and resilience to succeed at school and beyond
Reducing rural loneliness: supporting activities that reduce loneliness and help to improve physical and mental health
Strengthening communities: supporting projects that bring people together and build strong, supportive communities that help the most disadvantaged.
The Fund was officially launched in October where we were delighted to welcome Laura Blake, Development Director at SCF, to our offices to present the new initiative to our staff. Old Mill Board Member, Kevin Whitmarsh, also announced our partnership to 100 influential attendees at SCF's Annual Celebration recently, which we were proud to sponsor. The evening was an inspiring mix of passionate speakers from local charities who have benefitted from grants similar to ours and local philanthropists which encapsulated the importance of giving.
---
Somerset, Devon and Wiltshire Community Foundations receive thousands of applications every year from charities and community groups. As part of the process we will choose projects twice a year that fit well with the objectives of the Fund and that are close to our four offices. These inspiring local projects and incredible stories from individuals, families and community groups that have benefited from these grants remind us of the importance of being able to contribute both as individuals and as a business.
As part of our partnership, our staff are also giving their time and expertise as volunteers at local charities. Our team has a wealth of experience which we are able to share, whether it's being a Trustee or helping to upskill, mentor and strengthen existing charities and their teams.
For those who are engaged with local community groups or charities in need of funding, you can apply to your local Community Foundation for one of their many grants. If your criteria fits under The Old Mill Fund then please apply through the SCF Foundation Grants programme, which opens for applications quarterly.
---
How to apply?
Somerset Community Foundation: 01749 344949 or visit www.somersetcf.org.uk
Wiltshire Community Foundation: 01380 729284 or visit www.wiltshirecf.org.uk
Devon Community Foundation: 01884 235887 or visit http://devoncf.com
How to donate?
Donating to the Fund: if you'd like to make a one-off or regular donation to the Fund, you can do this on the SCF website www.somersetcf.org.uk/donate
You can also donate by texting OLDMILL + any amount to 70085. For example, OLDMILL 5 will donate £5. This costs £5 plus a std rate msg. Alternatively, you can opt to give any whole amount up to £20.

---