Press enter to begin your search
Celebrating a Successful Farmers Meeting on Succession in Farming
Succession in Farming
Old Mill, in collaboration with Stags and Stephens Scown, proudly sponsored and hosted a remarkable farmers meeting dedicated to the critical topic of Succession in Farming. This insightful event brought together farmers, industry experts, and stakeholders to engage in meaningful discussions about the challenges and opportunities surrounding succession planning in the agricultural sector. The evening was filled with valuable insights, practical advice, and inspiring stories, emphasising the importance of proactive planning for a smooth generational transition.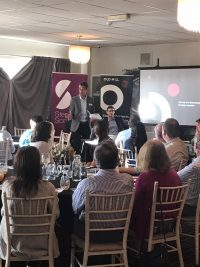 A Holistic Approach to Succession Planning
At Old Mill, we understand that succession planning is a multifaceted journey that goes beyond financial considerations. It is a deeply personal and emotional process for farming families, which is why we aimed to provide a holistic perspective during the Farmers Meeting. By collaborating with Stags and Stephens Scown, esteemed experts in their respective fields, we ensured a comprehensive approach that addressed both the financial and legal aspects of succession planning.
Enlightening Discussions and Inspiring Stories
The event featured thought-provoking discussions by Oliver Bond and Stuart Coombe. Attendees were presented with practical advice and guidance to navigate the complexities of succession planning. The power of open communication, early planning, and understanding the unique dynamics within each family were recurring themes throughout the evening. By sharing these stories, we fostered a sense of community and inspired others to take proactive steps towards securing the future of their farms.
Commitment to the Farming Community
At Old Mill, we firmly believe that a well-executed succession plan is vital for the long-term resilience and prosperity of farming families. It ensures a smooth transition, preserves legacies, and paves the way for continued growth in the agricultural sector. As a trusted advisor to many farming families, we remain committed to offering personalised support, financial expertise, and strategic guidance to facilitate successful generational transitions.
Continuing the Conversation
The Farmers Meeting served as a catalyst for meaningful conversations about succession planning within the farming community. We encourage all attendees to continue sharing knowledge, supporting one another, and collectively working towards a sustainable and prosperous future for farming families across the region. By maintaining these connections and collaborations, we can foster a stronger agricultural community.
---
Old Mill remains dedicated to supporting farming families with personalised solutions and strategic guidance, ensuring a seamless transition and a prosperous future for generations to come. Together, let us continue to build a resilient and thriving farming community.
Want to know what we can do for you and your business? click here…
---