Press enter to begin your search
Case Studies
Supporting Wadswick Country Store through retail diversifications, a cafe expansion and the creation of a solar park.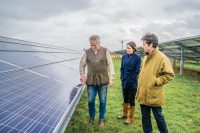 Background
---
Dating from 1980's, Wadswick Country Store is a multi-generational business that is at the cutting edge of green energy farming and country living retail.
With increasing on-line challenges to face, Old Mill has helped Tim, Carolyn, Jo and Alex to put the foundations for future security and growth in place through forecasting, business planning and the successful application for funding of a solar park and café expansion.
---
A community destination
---
Originally arable farmers with a successful grain storage business, Tim and Carolyn Barton started an animal feed store, selling crops from the farm in 1984. The shop grew steadily and is now a large country store specialising in the equestrian and country markets providing high quality products and services for country living, with recent additions including a gun room and shooting simulator. Their focus is to be a destination store and they're currently in the process of building a new larger coffee shop as well as looking at other services that will complement the site and build footfall.
---
Green energy focus
---
As well as the store, the farm has a green energy focus with a substantial amount of the land dedicated to growing Miscanthus, some of which is made into horse bedding on site and sold through the shop. Continuing their renewable ethos in 2017 they also built a solar park with the advice from Ricky Haines and Laura Wylie who helped with the financing and efficiency of this new business initiative.
Wadswick Country Store has benefitted from its location on the farm, it is now one of the largest Country Stores in the UK with a large variety of brands and a broad range of stock catering for all budgets. Depth of stock alongside their trained and knowledgeable staff means that they are able to attract customers from a large geographic area. Additional services such as a shooting simulator brings in new customers whose interests are aligned. The farm has always prided itself on a sustainable approach where possible, re-using rainwater, growing biofuels, and recycling waste from the business; these are all some of the initiatives they have put in place to minimise their impact on the environment.
---
Meeting retail challenges head on
---
Maintaining a viable business whilst facing challenges in both the retail and agricultural markets is an ongoing problem. As crop prices fluctuated they have found other ways to keep a steady revenue stream whilst keeping the farming business going. A passion for innovation and green energy has helped them to be early entrants into new areas such as bio fuels and solar farming. The retail business continues to face the battle against online selling and price matching which is driving margins down. Cost of staffing is an ever increasing part of their business.
Adding value to products grown on the farm has helped secure better margins which have been realised by selling direct to consumers. Examples of this include mixed chicken corn which they grow, process and bag in their mill as well as other feeds. Their Trumpet horse bedding made from Miscanthus grown on the farm offers a reasonably priced bedding for horse owners in an increasingly competitive market. As well as making for their own store they have also produced feed for competitors. Building their own Wadswick brand over many years of trading has enabled them to create their own branded products; horse feed, treats and more recently country clothing and accessories which has helped to build a loyal customer base with their own quality products unavailable elsewhere.
---
Diversification
---
Whilst continued diversification has protected them from major market changes the securing of planning for their solar park was a major milestone. This has given them a stable revenue stream for the business.
The family continue to add services to their site. Working with local experts to bring new businesses to Wadswick, last year the Holistic Vet moved his practice to the store bringing a new steady stream of customers and helping to build their raw dog food sales. The new coffee shop is an exciting venture, destined to bring new customers to the site. With outside seating, upper and lower floors, and a dog friendly environment created, they hope their customers will have more reason to come to Wadswick and enjoy the shopping experience for longer. Utilising space is also key and they are looking at new uses including short and long term office lets.
---
Using Old Mill to help future proof the business
---
Old Mill will continue supporting the family and their business with tax planning and accountancy advice to help Wadswick keep moving forward in a sustainable and efficient way.
.
---
"Old Mill have been very helpful with the future planning of our family business, ready for generations to come."
---
Tim Barton. Wadswick Country Store.
---
---