Press enter to begin your search
Old Mill Leading the Way
Sustainability for Food and Drink Businesses
In today's world, sustainability has become an imperative.
The UK food and drink industry is significant, with 4.1m people employed in the agri-food sector in Q1 2022, 13.4% of GB employment, and therefore the industry has tremendous potential to drive positive change.
Recognising this, Old Mill is empowering food and drink businesses to embrace sustainability as a core value. With our unwavering commitment to environmental stewardship, Old Mill is taking the lead in guiding the industry towards a more sustainable future. Let's delve into how Old Mill collaborates with clients to spearhead tailored sustainable practices within the food and drink sector.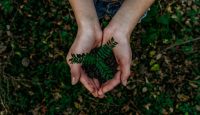 Sustainable Financial Planning
Old Mill understands that integrating sustainability into financial planning is paramount for food and drink businesses. By incorporating environmental, social, and governance (ESG) factors into financial strategies, we assist clients in aligning their financial goals with sustainable practices. This approach enables businesses to foster responsible growth, enhance resilience, and create long-term value while addressing environmental concerns. My colleague Gavin Jones' article here explains how we support sustainable investing: What is Sustainable & Ethical Investing?
Renewable Energy and Carbon Reduction
The transition to renewable energy sources and the reduction of carbon emissions are clearly key priorities for food and drink businesses, highlighted by the ambition of The Food and Drink Federation, on behalf of the sector, to reach 'net zero' by 2040.
Old Mill assists clients in exploring renewable energy options and grants available, implementing energy-efficient technologies, and adopting measures to reduce carbon footprints. By embracing sustainable energy practices, businesses can mitigate their environmental impact, enhance brand reputation, and achieve long-term cost savings. This article is a case study on one of our clients and how we have supported them on their sustainability journey: Peradon Farm – Sustainability and Diversification
Sustainable Packaging Solutions
The UK food and drink industry relies on packaging to help protect food, prevent food wastage and it is imperative to embrace sustainable packaging solutions. Businesses can then reduce their environmental footprint, elevate brand reputation, and meet the evolving consumer demand for eco-friendly choices.
Old Mill have a good understanding of the plastic packaging tax and we advise clients on sustainable packaging practices, such as utilising recycled or biodegradable materials and minimising carbon footprints throughout the packaging supply chain. My colleague David has written this really useful article about the tax: Plastic Packaging Tax – What is it and how will it affect my business?
Embrace the B-Corp Journey for Sustainable Success
At Old Mill, we believe in a new breed of businesses that transcend traditional profit-driven models. Certified B-Corp Businesses embody a remarkable balance between purpose and profit, meeting the highest standards of social and environmental performance. These exceptional enterprises have proven themselves to be a force for good in society and the environment, constantly scrutinized to maintain this unparalleled level of excellence.
Working towards becoming a B-Corp is not just a noble aspiration—it's an imperative for our collective responsibility as guardians of the planet. There is so much more we can do to foster sustainability and secure a flourishing future for the next generation. It's a decision that should be a no-brainer, prompting us all to reflect on how we can be more sustainable in our practices. Together, we can make a profound difference and ensure we are doing the right thing. We work closely with our clients on a B-Corp journey and can support with any management or financial reporting needed to achieve success.
Old Mill Promoting Sustainability
Old Mill stands at the forefront of promoting sustainability within the food and drink industry. By providing tailored financial advice, guiding businesses through environmental compliance, optimising resource efficiency, supporting renewable energy adoption, encouraging sustainable packaging solutions, and fostering collaboration, Old Mill empowers food and drink businesses to make sustainability a driving force for success.
With our guidance, these businesses can contribute to a greener future while achieving long-term growth and resilience. Together, we can forge a sustainable and prosperous food and drink industry for generations to come.
---
At Old Mill, we are honoured to be your trusted partner, and we look forward to serving you with passion, expertise, and a shared commitment to your financial future.
Want to know what we can do for you and your business? click here…
---