Press enter to begin your search
Rural
Peradon Farm – Sustainability and Diversification
Jon and Louise Burrough are creating a long-term sustainable farming enterprise to support the entire family and to weather changing landscapes.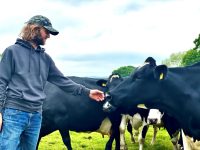 Based at Clyst Hydon, Devon, the couple joined the Burroughs family's beef and sheep farming partnership in 2008.  Although an established and successful farming enterprise, when the EU Referendum concluded in Brexit, Jon and Louise felt that a complete turnaround was needed to counteract the likely ramifications of the vote.
After undertaking extensive research, Jon and Louise opted to diversify as much as possible and make the most profitable use of their land.
"We decided we needed a strong core business as a back-stop" says Jon "We pulled together the figures with our accountant, Phil Kirkpatrick at Old Mill, and decided that dairy would be a viable enterprise alongside fairly ambitious plans to build ten houses and a solar farm."
---
Organic Dairy Unit
---
The couple are currently milking 120 cows with an autumn calving bias, with an average yield of 9,000 litres.
"We use Genus RMS to breed up our own replacements and we still buy from time to time," says Jon. "We aim to produce a good quality, relatively high-yielding cow that can maximise good quality forage."
---
Property Development – new build dwellings and barn conversations
---
Having made the move to dairy, the couple were then able to turn their attention towards pushing forward their diversification ambitions.  After a lot of work, they secured planning for five new-build dwellings and five barn conversions.
Louise Burrough then applied to the European Agricultural Fund for a Rural Development grant to develop the first build into a holiday let. The build took 15 months to complete – partially hindered by the coronavirus pandemic – but it was ready in time for summer 2021.
Louise's background as a PR manager came in useful for marketing the holiday let. "I met with lots of agents initially, all of whom charge 15-25% commission, but I opted to market it myself through Airbnb," she explains.
"Alongside this I've also been able to build and run my own website, www.devon-farm-holidays.com.  I do my own photography and take bookings directly. Our first season has gone really well; the property has been fully booked since we started and received top ratings."
---
Renewable Energy – Solar
---
Another project has been to install a solar power facility. Their interest in solar goes back over a decade.
"It's not just about the finances but also about the environment," says Jon. "Climate change has really spurred us on because as farmers we are in a really privileged position to do a lot more."
The facility itself feeds into a 49MW solar scheme which powers the equivalent of 15,000 homes or 19,000 cars.
---
Tax, Trusts and economics
---
Though the rents from the solar farm could impact Mr and Mrs Burroughs' Income Tax liability, half of the land the solar farm will be located on is in a Trust set up by his parents. With advice from Old Mill, they considered options of incorporating or reinvesting the income, but concluded the Trust was the best option.
This has worked out well as it ties in with their Inheritance Tax planning, as the income is effectively ring-fenced. "Everything we have done has had Inheritance Tax in mind as it's all about planning to pass everything onto our children," says Jon.
"We also spent time with Old Mill discussing VAT – especially for the house builds. It's much more favourable on a new-build than a conversion, which confirmed our plans to do that rather than convert the first one. We also brought a builder in to do all the work so we got zero rated bills – meaning he would deal with the tax."
Through their planning with Old Mill, they established that in a worst-case scenario they could sell the holiday let to pay off debts. "We had to factor in if the farm could fund the build and if it could continue until the let can support itself," explains Jon.
"We made a conservative estimate on predicted turnover, but we expect the payback will be about six years if it does relatively well. And it should start paying for the loan we took out to do it in its first season."
---
Working with Old MIll
---
Throughout this entire process the couple have relied on the advice given by Old Mill.
"There are so many potential pitfalls when embarking on farm diversification projects that being able to pick up the phone to Phil is vital," says Mr Burrough. "We often have lots of different ideas and having a specialist accountant to discuss them with is so important. Within the firm there's a high level of expertise in all fields which means that we get an answer to any query or question."
Jon and Louise are looking forward to what the future holds and, while the landscape continues to change, they are confident that their business plan can adapt as required, and that Old Mill will always be available to offer professional and reliable advice to help.
---