Press enter to begin your search
Food & Drink
The Food and Drink Team – Lorraine Bolland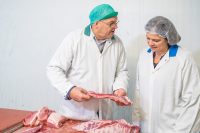 Behind the scenes here at Old Mill, we like to indulge in the delicious concoction of numbers, problem solving and seeing our food and drink clients achieve success.
To make this happen we have a number of dedicated food and drink specialists working hard on behalf of clients.
So now we want to introduce you to an important member of the team – enter, Lorraine Bolland, accountant and lover of all things food and drink…
Tell us a bit about yourself
---
I joined Old Mill in 2006 and have a broad practice background, always getting stuck into the tax as well as the accounts and audits. In my early career I had a great deal of involvement with hotel clients, food wholesalers, charities and property companies. My 13 years at Old Mill has given me more involvement with farmers, food producers and retailers, which has completed the all-round food service offering.
---
What is your favourite part of the job?
---
Getting to know a business is exciting and I get a real buzz from it. This then moves on to picking through the detail and building the foundations to support advice. I really love to get to know a client well and can put myself in their shoes, spotting opportunities which might be of interest to them.
It's so rewarding when you see the business evolve, meet its objectives and thrive.
---
What's the biggest misconception surrounding accounting?
---
Today, with mainly computerised records and highly efficient accounting software, there's a mistaken belief that we just plug some figures into the system, and it calculates everything for us with very little effort. But there's so much more to it than that; it's about seeing past the numbers, and having that human touch to identify ways to improve a business. That could be through helping with Research and Development costs, supporting clients with Capital Allowance claims, or a whole host of other activity. The key point is that as accountants, we don't just push numbers, we add value.
---
What is it about the food and drink industry that you love?
---
Food and drink can be so creative and emotive. I like to believe that I spot opportunities for food and drink businesses by being creative and thinking outside of the normal accountancy box, which then helps them to become more successful and achieve their objectives.
---
Where do you see the food and drink industry heading?
---
We are seeing the benefit of businesses talking to their competitors rather than keeping their doors firmly shut. There is a huge amount of opportunity for everyone and it's difficult for every business to be masters of all aspects, whether that be operations and logistics or connections in the retail space. We are finding that there's a lot of interest in powerful business combinations, and these should help businesses to take advantage of opportunities in challenging times.
---
How has accounting changed in the last few years?
---
As a business we are actively working to become a paperless office. To help this shift, working remotely is far easier and we are taking advantage of the new technology available. With so much going digital, we have just gone through one of the largest overhauls of accounting standards in my career, which has meant a big change for us as well as our clients.
---
If you weren't working in accounting what would you be doing?
---
Having been in the service industry for 24 years now, I think I would have to be an owner of my own business that makes and sells something tangible. It would be great to feel a sense of pride in a product that you can actually touch and feel; it would give me a great sense of accomplishment, and hopefully be enjoyed by customers.
Perhaps I'll spot a gap in the market, create a fantastic brand, submit a really big Research and Development claim, pass the business on to my children and relax into an early retirement, leaving Old Mill to manage my wealth!
"Getting to know a business is exciting and you get a real buzz from it."
---
Lorraine Bolland
---
---
Lorraine works with a variety of food and drink businesses across the South West. So, if you're looking to start your own business, claim Research and Development tax credits, or perhaps want support and advice with funding applications, contact Lorraine for an initial discussion.
---