Press enter to begin your search
Old Mill Updates
Winners of Adviser Firm of the Year 2019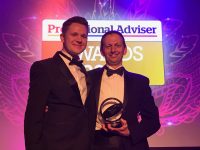 It is with great pleasure that we announce that we have won Adviser Firm of the Year 2019 – one of the financial planning profession's most coveted awards.
Now in their 14th year, the Professional Adviser Awards seek to reward excellence both within the financial advice community and among the broader financial services sector.
To enter the awards, adviser firms are asked to showcase their knowledge, skills and commitment to client care by addressing issues laid out in a case study, and answering questions about their businesses.
Professional Adviser editor Julian Marr said that this year, it was clear that firms had taken 'a great deal of time and care' to address both the issues in the case study and to answer Professional Advisers 'own probing questions' about their businesses and risk-management processes.
In total, the services and products of more than 200 advisers and other businesses were under consideration for the 2019 Professional Adviser Awards.
Old Mill was one of four firms to be shortlisted for the South West Adviser Firm of the Year category; the others were Clifton Wealth, Continuum Financial Services and Ermin Fosse Financial Management.
Head of Wealth Management and board member Paula Hodge, says with such an abundance of quality financial planning firms in the South West, it is a real achievement to have won.
'There are so many quality financial firms in the region that to be named South West Adviser Firm of the Year is a real honour.'
She added: 'Every single financial planner we have at Old Mill has the same ethos – they genuinely care about their clients and put them at the heart of everything they do. And without that commitment, we wouldn't be able to win awards like this so it really is a reflection of the whole team.'
Compliance Director Duncan Parkes put the entry together and collected the award on the night with Operations Manager Matt Clark; Duncan said: 'Not only does it showcase how hard we work as a firm, but winning recognition for the great service we provide to our clients is something everyone at Old Mill can be proud of.'
'We will take this win and build on it and hopefully next year we could be in the running for the national prize!'