Press enter to begin your search
Case Studies
Helping Woodbridge Farm and Dorset Blue Vinny build a future proof business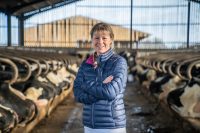 Having a specialist food and drink team, and having the pleasure of working for a number of talented businesses in the industry, we were delighted when the opportunity came up to show case one of our long-term clients, Dorset Blue Vinny.
---
As a family owned cheesemaker located at Woodbridge Farm near Sturminster Newton, Dorset Blue Vinny was revived back to life by Mike and Christine Davies in the 1980's using a 300 year old recipe. Rich in its history, this cheese was once made in nearly every farmhouse in Dorset until the Second World War when production died out entirely.
Dorset Blue Vinny is a traditional blue cheese made from skimmed cows' milk. "Vinny" is derived from a local Dorset term related to the obsolete word, "vinew", which means blue vein.
The farm is now run on a day-to-day basis by their son Richard, whilst their daughter, Emily manages the cheese business and The Dorset Blue Soup Co. With the support of Mike and Christine, Richard and Emily are determined to carry on the farm and Dorset Blue Vinny legacy for generations to come.
---
Kick-starting the diversification trend
---
Diversification has been a hot topic for a number of years for the farming industry and Mike and his family have actively embraced this early on. With Woodbridge Farm home to over 270 Holstein Friesian cows, they are able to continuously produce milk for the production of their Dorset Blue Vinny. If you're looking for a business to aspire to, this is the one.
The Davies family have worked hard for over 40 years to keep up with consumer demand and stay ahead of the game. They have a variety of products to satisfy the taste buds of their customers, from cheeses to chutneys, and have recently opened a 'pop up shop' on their farm to enhance the customer experience, showcasing their locally sourced products. Their customers can purchase a delicious Dorset Blue Vinny offcut on the grounds of the farm, whilst the cows that supply the milk for the cheese 'moo' away in the background. They have managed to create a genuinely authentic customer experience.
The business has also made a point of collaborating with a range of other local, artisan food and drink businesses: Chococco have included Dorset Blue Vinny in their Christmas range of fabulous chocolates. Purbeck Ice Cream created the first Dorset Blue Vinny ice cream. Holebrooks Deli & Butchers produce Dorset Blue Vinny sausages. Oxfords Bakery make an amazing Dorset Blue Vinny Loaf as well as cheese twists. Hotch Potch Savoury Pies use Dorset Blue Vinny in a range of gluten free pies and The Real Cure has developed a delicious Dorset Blue Vinny and Fig Salami.
---
Embracing opportunity
---
Reaching the successful heights that they have has been decades in the making but the legacy they now have is an aspiring achievement. Initially, the main challenge was building up the brand and, over the years, the Davies family have proved to be very resourceful by working with some fantastic ambassadors – Mike was one of Rick Stein's original Food Heroes, as well as working closely with Hugh Fearnley-Whittingstall and the River Cottage team to create some fantastic soup flavours. Associations like these helped enormously to get Dorset Blue Vinny on the map.
Emily explains, "Distribution can also be a challenge in terms of getting your product listed with wholesalers; for instance we have just landed a really exciting distribution deal that's been 3 years in the making!"
As well as being cheesemakers, they manage a working farm that supplies milk to other producers, so there are different cost centres that need to be carefully monitored. Having diversified the farm business, the need soon became apparent to bring together both the farm and the cheese making businesses, ensuring they both run side by side in a more streamlined way. "Working closely with the team here at Old Mill, we identified that Xero's cloud-based solution was the way forward." Richard adds.
"As a family business you tend to find yourself wearing a lot of hats, so it's essential to have an adviser like Phil Mills who knows our industry and is a good sounding board. The move onto Xero was a massive transition for us as there's a lot of paperwork generated because of the cheese sales and we needed to set up all the cost centres and systems. We can now pull the right information on a monthly basis to provide us with much better insights to be able to run the business."
---
Richard Davies. Woodbridge Farm and Dorset Blue Vinny.
---
Keeping up with success, what next?
---
Growing a business with a strong heritage means it is as important as ever to keep on innovating. The world is ever-evolving and so are Dorset Blue Vinny, as they look to expand their product range and broaden their distribution.
By investing in their product, listening to their customers and making the all-important shift over to cloud-based accounting, they are in a strong position to remain competitive. They have embraced diversification and have been smart about it; utilising their resources, tapping into a niche market and building strong relationships with suppliers and wholesalers.
---
Dorset Blue Vinny and Old Mill
---
"What attracted us to Old Mill was their rural and food credentials; they are known in the agricultural space across the West Country and they have genuine Food & Drink specialists who understand the entire supply chain and we can readily plug into that expertise."
Richard Davies.
---
"Old Mill's Xero specialist, Jude Bennett was phenomenal in helping us through this and was always readily available and accessible - she's been unbelievable."
---
Emily Davies. Dorset Blue Vinny
---
---