Press enter to begin your search
Case Studies
How putting your successor in place early helps to secure your farms future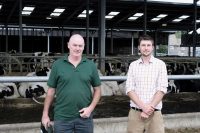 Client Profile: IC Carter & Son
---
Those of you reading this may be surprised to learn that less than 40% of farmers discuss and delegate any business financial decision-making responsibilities to their successor.
In terms of the structure, longevity and smooth transition of your business, there are clear benefits to be gained by setting out your succession plans early, and bringing your successor alongside you as a partner long before you hand over the reins.
One Old Mill client who addressed the succession of the farming business sooner rather than later is father and son partnership, Irving and Joe Carter. In 2009 the Carters' 137ha farm was carrying 155 cows averaging 8,600 litres. Today the herd is in transition, with 280 cows averaging 10,782 litres, and a plan to work towards a 400-cow unit.
---
Irving Carter
---
Irving is the product of several generations of farmers. But while his father provided him with his knowledge and drive for the industry, he didn't get the succession opportunities and responsibility he needed to establish himself as a farmer in his own right. So in 1978 Irving rented a small farm and invested in his own small dairy herd.
By 2006, he had become a successful and respected farmer, having bought his own farm and significantly increased the size of the dairy herd from 40 acres and 27 cows. Irving admits to being a traditional farmer, concentrating solely on the dairy element of the farm and utilising his husbandry and work ethic. "My years of experience means I know how to make a farming business work through tried and tested methods. I use my mobile as a phone. My 40 year plan is nearly up," said Irving.
---
Joe Carter
---
Joe was 19 when he came into the farming set up in 2008. He had a carpentry and building background and was not your typical, dedicated young farmer. What he did have, however, was his father's work ethic. "I had no farming knowledge at the time," explained Joe. "Dad taught me his knowledge, but I learnt that I could also research farming using different methods, from online data to surfing farming forums and benchmarking with other farmers."
This also meant Joe could bring new ideas to the table, and father and son soon realised that there was a real advantage to utilising both old and new methodologies in farming.
"I embrace new technology and use live information, including new farming techniques, online bookkeeping and financial data to make decisions to enhance the business model into the future, I use my mobile as my office. My 40 year plan is just beginning."
---
Joe Carter, IC Carter & Son
---
Combining the old with the new
---
Working together, the pair combine the old with the new. The core of the business is still there, with Irving's traditional philosophy supporting the farm, while Joe utilises his knowledge of technology to drive the business forward in new and exciting ways.
"Without Joe I would have to adapt to the changing marketplace. One of his biggest strengths is that he understands and utilises the internet, records everything and then uses it. For my generation, that information is all in your head. Joe can relay the information he finds and puts it into use on the farm."
---
Irving Carter, IC Carter & Son
---
A sense of direction
---
Initially Joe took on projects that he had complete control over – for example, the new cow unit demonstrates his influence, with solar panels and artificial daytime lighting. Cow nutrition is also one of his interests, and his analysis of the raw data has given the business a sense of direction that Irving would not have taken into consideration.
---
What are the other benefits to bringing Joe into the partnership?
---
"My wife, Carolyne, and I wanted Joe to be a partner," said Irving, "but there were good tax reasons for it as well, which we discussed with our accountant. We also wanted Joe to know we were serious about him taking on the farm. We want Joe to make decisions, and to feel trusted to make them. My father would never have let me make decisions, but it's different now and I want my son to be involved."
---
Releasing responsibility
---
It can be an emotional challenge to let go of your hard work and allow your children or successors to take over, but as Irving explained: "I want to see the business go forward and to give Joe the chance. You realise that you're not going to be here forever and if you've got someone you can trust to drive it forward who has the same ethos as you, you shouldn't say no. You're there to mentor them."
"I love the farm, but I do treat it as a business. Pride comes from getting the data back to see good health and performance from the cows. It's also about getting the right people behind you, and leadership."
---
Joe Carter, IC Carter & Son
---
The fear of becoming irrelevant
---
Understandably, many farmers handing over responsibility to their offspring worry about becoming redundant in the business. But Joe offers an alternative view on this: "That's the whole point of succession, where I am capable of running the business without needing dad there. I'm not pushing him out of the equation – I will still go to him for his experience – but we need to get to a good position now with the management of the business before dad steps down."
Irving added: "By giving Joe the responsibility for management decisions, I have learnt that the farm can go on without me. It opened my eyes to see that no one is indispensable. I no longer have to shoulder the challenges of running the farm by myself, and I'm now fortunate enough to enjoy the farm's success and progression in my son's hands."
---
What advice would you give to other farmers looking into succession?
---
"If you believe you've brought your son or daughter up well then there's no reason for you not to have faith in them," said Irving. "That's the first step.
"It's a generational thing and it used to be so different. The industry has gone so far forward that we need the younger generation for the industry to survive."
"I'm lucky that I have a father that's so open," added Joe. "I know others who aren't as lucky – they want to get involved on the farm but their parents won't let them. There are certain things like research and technology that the younger generation can do, that the older generation can't.
"My advice would be to have the conversation with your parents around the table, ask them where they see the farm going, have they considered succession, and ask them where they see themselves fitting into the picture. Maybe the son or daughter could work on a project and prove themselves."
---
Working with Old Mill
---
What's abundantly clear from this father and son team is that both Irving and Joe bring something different to the table which is indispensable to the success of the business, and which brings reassurance for both that they will achieve their goals.
They are also very positive about the support and advice they've received from Old Mill during this process. "Old Mill are very proactive on this subject, there were so many financial considerations that we had not taken into account," said Irving. "Ricky Haines has been very supportive, advising us on all aspects of succession and business plans in farming families."
"With succession in place and the future of the farm under both our responsibilities, we know exactly where we want to grow; Old Mill is ever present in this growth. The professionals are there for a reason – use them."
---
Joe Carter, IC Carter & Son
---
How Old Mill can help
---
Our team worked closely with the Carters to build a plan for the business, offering specialist advice and support on both business and personal financial aspects. We are immensely proud to be advisers to the Carter partnership, and thoroughly enjoy working with proactive farmers, sharing and contributing to their success.
If you would like to talk to us about succession planning in your own farming business, we would love to hear from you.
---