Press enter to begin your search
Family
What is Later Life Planning & do I need it?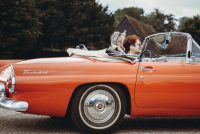 Later life planning is about much more than planning for care and how best to fund it, although that's a very large element of it.
When we speak to people about later life planning we typically help two main groups of people:
People in crisis, where sudden ill-health means the need for care (and advice on how to plan it) happens very quickly,
And, those who want to plan ahead so that they can manage the situation with more time on their hands and less stress in their lives.
For both groups there are a lot of issues to be considered; while not everyone will become ill and need care in later life, we can all still benefit from having a financial plan.
Do I need a later life plan?
---
What you need to consider
While needs and goals may change as you get older, the principles for financial planning are the same – using your resources (income and capital assets) to achieve the lifestyle you want, with peace of mind.
The diagram below shows the vast array and complexity of issues that are part of the later life planning process. Most of us are likely to experience at least some period of poor health as we get older, and at this point a different set of considerations come to the fore. You can use this diagram as a checklist to consider all the issues in an integrated way, as it's important to plan how you would cope if your health failed. However, it's also important to understand that the issues on the 'good health' side of the diagram don't go away, and will still need to be managed.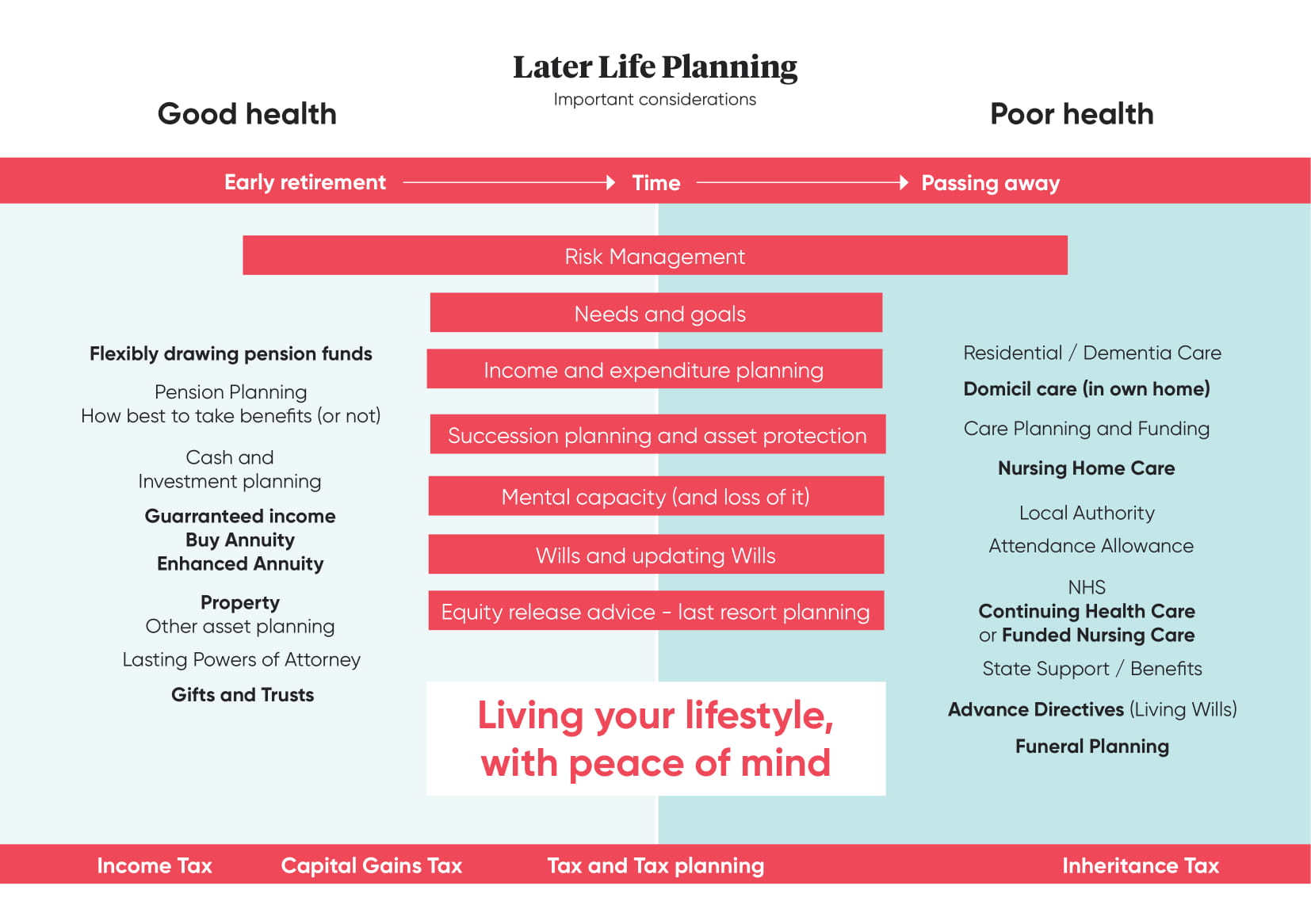 So, for example, you may feel strongly that you want to stay in your own home, should you become ill and need care. While this is a common aim – many people dread the idea of going into residential care – there are complex issues around the law, your rights, and how care planning and needs assessments work, which you will have to consider. By planning ahead and managing your affairs in the right way, it's much more likely that you will be able to achieve this objective.
Avoiding difficult scenarios
As we get older the issues we face in life can become more challenging. When ill-health strikes, especially where someone moves from independence to being dependent, it can be a very stressful time, as coping mentally, physically and financially can become much more difficult. If things are planned and managed correctly the impact of that loss of independence can be reduced significantly.
Knowing your lifestyle in advance
It's also important that the adviser helping you understands these difficulties and the problems they create, and is trained to deal with such matters. For example, being able to give advice to people who have dementia, and accommodating their specific needs in the advice process, requires specialist skills and training. A good understanding of your lifestyle requirements, both before and if care arises, is also crucial, as they can impact on other goals such as your succession planning wishes when you pass away.
"If things are planned and managed correctly the impact of that loss of independence can be reduced significantly."
---
---
Planning your options in advance
---
Deciding on your lifestyle requirements, understanding the options available, and working with an adviser who has the skills and experience necessary to help you put the right plan in place, are the keys to successfully preparing for any period of long-term ill-health in later life.
Protecting assets
With the proliferation of unregulated firms providing 'asset protection trusts' and care planning ideas that claim to protect assets, it's important to take advice from reliable sources that are fully regulated. Poorly structured asset protection planning can be highly restrictive in later life when you may need the funds the most. And beware of the deliberate deprivation rules, which concern the intentional reduction of assets so that they can't be included in the financial assessment of care home fees.
Mental capacity
Loss of mental capacity can happen very suddenly, for example, if you have a stroke. In this instance, unless you have the correct paperwork in place (such as Lasting Powers of Attorney), life can become very difficult and stressful for those who are left to manage your welfare and financial affairs.
Equity release
This is an increasingly common option but it's important to check that any equity release scheme is right for you, as there may be more suitable alternatives. Advice from someone who is a specialist later life adviser, rather than someone focused solely on equity release, can add value.
Finally, away from crisis planning for care, later life planning looks at a host of other issues that can bring you peace of mind, such as ensuring your will is aligned to your broader goals and plans. Of course, tax planning pervades most areas of later life planning, and tax planning and advice may help you achieve your goals and plans in a more tax efficient way.
To find out more about how the Old Mill later life team can help you and your family, please contact us or take a look at our Later Life Planning page.
---
---