Press enter to begin your search
Case Studies
Westbury Packaging: How moving to a new location was the catalyst for stellar growth
Old Mill has a longstanding relationship with Westbury Packaging's Managing Director, Ben Tupman, having been advising the business since 2003. What's interesting, however, is how the relationship has evolved over the years as the business has grown and different market drivers have necessitated a pragmatic and flexible approach for the firm to thrive. Jolyon Stonehouse, Head of Owner Managed Businesses and David Maslen, Director of Corporate Tax caught up with Ben at Westbury's impressive 69,000 sq ft facility in Melksham.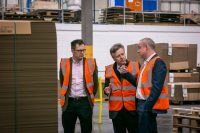 Westbury Packaging are packaging designers and cardboard box manufacturers serving clients across the South West and beyond. The business has come a long way since its formation in 1983 and is now approaching £10 million in turnover and employs approximately 50 staff.
In 2017, the entire company – factory, warehouse and offices – relocated the nine miles up the A350 to a single 2.37 acre self-contained site and the move has had a big impact in a number of ways.
Reflecting three years on Ben says 'It was hugely costly at the time but was something we'd been looking to do for a number of years.
I talked to David and Jolyon about this and Old Mill were a great help in getting us here in terms of cash flow advice, investment advice and looking at ways to optimise the transition.
Since the move, we've grown by around 25% in turnover. We also have the capacity to run 24 hours a day if required to do so which is something we couldn't do previously.
Investment in machinery has meant that we haven't needed to do that yet and, in fact, we actually reduced the amount of overtime despite having just gone through the busiest period the business has ever traded in.
That's obviously down to having the vision coupled with sound advice. We've relied heavily on Old Mill for 17 years now when it comes to making big decisions.'
---
Adapting to the changing business landscape
---
2019 was a very successful year coming off the back of some pretty challenging times for the packaging industry with significant increases in the pricing of paper over a very short period.
The environment changed somewhat last year in terms of supply which allowed the business to really take advantage of the new site. Westbury had been able to increase capacity following the move but also from a £750,000 investment in new machinery.
This has enabled the company to attract new customers as well as increasing volumes from existing clients which is something that previously would have been a challenge. It also meant that last December, when normally the business would be stretched, they were able to take on work that another plant couldn't fulfil because they'd oversold their capacity.
Ben comments: 'I think that that's a really good indicator of how far we've come from being a business that sometimes struggled to keep on top of demand, where there was always that underlying concern over will we get things done to a much calmer environment now where we're able to produce well, sell more capacity and just be a better supplier to our customers.'
---
The changing nature of business advisory
---
Looking back, it's also striking how the relationship with Old Mill has evolved in that for many years the management team relied on Old Mill for the basic processes which was borne initially out of a lack of knowledge in terms of finance.
But as the business has grown, it's more about technical insight around more complex issues as well as strategic input. Ben also brought in a new Head of Finance last year to keep on top of the day-to-day numbers but through quarterly strategy meetings the focus is more on planning rather than the fundamentals.
The theme of these meetings is typically around how to make the business better through continuous improvement alongside effective business performance.
Ben says: 'It's more about where are we going as a business? What does that look like? How are we going to fund that? As well as reviewing what are we doing well and where can we improve? These advisory-led meetings have a different complexion for us in terms of the advice we receive.'
"Old Mill have always challenged what we're doing and why we're doing it, and made us answer difficult questions of the business, and even ourselves. The fact that we still rely on that after 17 years speaks volumes."
---
Ben Tupman, MD
---
The 'Blue Planet' Effect
---
Sustainability has become a huge driver in every aspect of Westbury Packaging's business.
Corrugated packaging is fantastic because it's recyclable, so they are really in a great position to help their customers move to more sustainable packaging solutions. Ben's team are working with two major brands ensuring that all of their packaging will shortly be completely sustainable.
There are great opportunities for brands of all sizes to look at how they can develop their packaging without impacting the environment.
But it doesn't stop there as Ben is committed to the green agenda saying: 'We also need to look at ourselves because it's all well and good us talking about how sustainable our products are, but I think that we also have to demonstrate just how seriously we take this ourselves as a business. It's about taking those little steps along the way to make sure that we're as green as we can be.
So, all our energy is from renewable sources and we installed LED lighting in our production facility. We also recycle everything that comes out of the plant and are starting to replace petrol cars with electric cars. In fact, we've just been certified as a carbon-neutral organisation which we're delighted about.
This approach doesn't mean we have to send stuff out in brown cardboard boxes either. The investment we made last year in a 4 Colour Rotary Die-Cutter which provides our customers with fantastic looking packaging with really intricate design, but it doesn't have to come at the cost of the planet.'
---
As for the future
---
Westbury Packaging will continue to relentlessly focus on improving business efficiencies which in turn drives up profitability.
Ben says 'As the economic landscape changes we have to move with that and the only way to do that is to automate and mechanise wherever possible. If technology and more advanced machinery can help us deliver better quality products faster, then it makes sense.'
But as Ben concludes: 'It's not just about out-and-out growth. We want to be smarter, better, more efficient because ultimately the better we are, the more appealing we are as a business. The key driver for me is that we want to strive to be the best at what we do, and we need to make sure that the business is set up in the right way to allow this to happen.
We see huge growth opportunities and leveraging technology means we can produce really interesting packaging that looks amazing and, even better, it's all completely recyclable.'
---
COVID-19 update
---
This profile was done just before we went into lockdown; so how has Westbury Packaging faired in terms of navigating through the challenges associated with the pandemic?
Ben Tupman comments 'We had a lull of about five weeks as the first lockdown began. However, since mid-May it's been absolutely crazy! Combinations of COVID, changes in shopping habits and Brexit have meant that our industry is currently under demand unlike anything we've experienced previously.
'Naturally, we're really grateful for it but it comes with its problems. Machinery is working flat out, goodness knows how we'd have coped without the investments made over the last three years and our staff have been absolutely amazing throughout. At present we've got people working huge hours and giving it everything for the cause, it's been very humbling to be a part of and taught us an awful lot about our business and the people in it.
'Going forward, we're looking at further machinery investments for 2021 to give us that extra capacity and efficiency that we continue to aim for, along with improving our offering and quality for our ever supportive client base.'
Jolyon Stonehouse adds 'It's really easy to get dragged down by the bad news surrounding the economic shock caused by this pandemic, and there have been some tough stories, but there are many businesses doing really well right now despite the restrictions and Westbury Packaging has been able to adapt to increased demand in its sector as the nation's purchasing habits online have accelerated.'
---