Press enter to begin your search
Old Mill Updates
COVID-19: Practical guidance for our rural and farming clients #8
Another week under lock-down and there is no letting up of government support announcements.  All businesses now have a 'one stop' government link to generate a tailored list of support packages.  Farmers can also have some breathing space with the one-month extension for their Basic Payment Scheme and other farm payment claims.  And small value loans are now available interest free and 100% guaranteed.
As ever, we advise consideration and caution when the option of so called 'free money' is offered and we advise you contact your Old Mill adviser to discuss any financial or strategic decisions you are planning to make.  Our professional advice is there for all farmers and rural businesses to utilise during these extraordinary times and we are on hand to do all we can to help.
Full details of the announcements are contained within this update along with an invitation for you to join us alongside the ever-growing attendance at our rural 'Virtual Breakfast' Q&A on Friday mornings at 9am.
New Bounce Back Loan scheme for loans of up to £50,000
---
The Government has announced the new Bounce Back Loan scheme.  According to Chancellor, Rishi Sunak, this will be a simple, quick, easy solution for those in need of smaller loans.
Businesses can apply for the loans worth 25% of their turnover, up to a maximum of £50,000
The Government will pay the interest for the first 12 months
Loans will be 100% guaranteed
Loans will be made available from 9am next Monday (4 May)
We are told there will be no forward-looking tests of business viability and no complex eligibility criteria. All that will be required is the completion of a quick, standard form
For most businesses, loans should arrive within 24 hours of approval.
Click her for details and how to claim on the gov.uk website.
---
Government Coronavirus Interruption Support Finder
---
The Government has launched an online support finder for businesses during the COVID-19 interruption.  Given the bewildering array of announcements, drip-feed of detail, changes and updates, it's a welcome development to be able to find everything in one place.
The Finder works as a series of nine questions with 'yes/no' and tick-box answers and your responses then generate a tailored list of support packages for which your business may be eligible.  For each suggested package, there is a brief description of the measure and eligibility, with a link to take you to the relevant page of gov.uk for further detail.
Click here for the nine questions and for more information from us on the Finder or to start you search click here on the gov.uk website.
---
Reporting payments in PAYE Real Time Information from the Coronavirus Job Retention Scheme
---
HMRC published guidance on the 23 April on how and when to report payments made to employees who are furloughed using the PAYE Real Time Information system.
This is applicable if you are:
Using the grant to pay wages
Using the grant to reimburse wages already paid
In a different situation.
---
Extra month to claim for farm payments
---
The Government has confirmed the window to submit applications for the Basic Payment Scheme (BPS) and make a claim for Countryside Stewardship (CS), Environmental Stewardship (ES) and woodland legacy revenue payments will be extended by one month.
In light of the disruption caused by the COVID-19 outbreak, farmers and land managers will now have until the 15 June to submit their applications without penalty. This will give farmers and their agents an extra month to submit applications and claims, helping them to avoid penalties for late applications. Farmers and land managers are still encouraged to submit land applications, in particular online for BPS and CS through the Rural Payments Service, as soon as they are able to, with a large number already received by the Rural Payments Agency (RPA).
The RPA will continue to monitor the situation carefully and consider if further measures are needed to support farmers. Applications for new CS Higher-Tier and Mid-Tier agreements are still being accepted ahead of their respective deadlines of 1 May and 31 July 2020.
---
Old Mill 'Virtual Breakfast' Q&A every Friday at 9.00am
---
Join us this week for the next Old Mill Rural 'Virtual Breakfast' Q&A focusing on all things financial for farming and rural businesses during COVID-19.  This week alongside Rural Tax adviser Catherine Vickery we will be joined by Director and Rural Adviser Neil Cox.
We have also asked Ed Warren of the Farm Consultancy Group to join us as a guest.  Ed previously worked as a specialist Agricultural Bank Manager and will be on hand to cover questions about bank funding and what is required during COVID-19.
As usual, please submit a question beforehand to marketing@om.uk or live during the breakfast.
Click here at 9am this Friday 1 May to join our 'Virtual Breakfast.'
The link will direct you to a secure Microsoft Teams page.  Here you can click the box 'watch on the web' which will give you entry without having to download any software.
If you have any problems accessing the event please let us know by contacting marketing@om.uk.
To get a taster, watch back last week's 'Virtual Breakfast' here…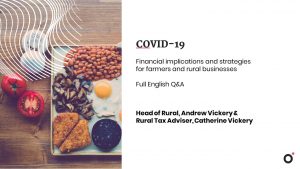 For more information, or if you have any questions about any of the above, please contact your Old Mill adviser or email enquiries@om.uk.
---