Press enter to begin your search
Personal and Family Tax Planning
6 step guide to planning your family's financial future in 2020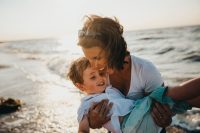 It's been an extraordinary 2020 so far with the worldwide impact of Covid-19 and as a result, many are understandably taking steps to consider their family's financial future.
Along with tackling overdue DIY jobs or creating a garden fit for the Chelsea flower show, you may also have found time to reflect on what's important to you?
For me, I've often found myself thinking about the importance of family and looking forward to seeing parents and grandparents again. This sentiment has also featured regularly in my conversations with clients, with a noticeable increase in those wanting to review their estate planning and asking what else they could do to help their family.
Here are my top tips to help you manage your estate across the generations.
---
1. Keep your Will up to date and have a Power of Attorney in place
Without these essential documents, how will anyone know what you would like to happen to your wealth and who should manage your finances when you aren't able to?
Engaging with a legal professional will ensure that the relevant documents are drafted correctly and that you are making full use of the benefits they provide.
Often, we will choose our nearest and dearest to act as our executors. But many will be unfamiliar with the financial and legal aspects of administering an estate.
It's also helpful to leave clear, practical instructions. For example, make sure that you have up to date assets, and bank statements and details of your professional advisers in a place that trusted family members can find them. You could send an updated copy regularly to your executors/family.
---
---
2. Consider the use of lifetime gifts
Is there anyone in your family who would benefit from your financial support now rather than later?
One of the most common concerns for people when considering helping their family is whether they will run out of money themselves. This dilemma can result in wealth remaining within the estate until death and end up being subject to Inheritance Tax unnecessarily.
Supporting the family through a lifetime gift allows you to see first-hand the difference you have made to your loved one's lives.
Working with your Financial Planner to build a cash flow model gives you a clearer insight into how your generosity may impact your future plans. This process often leads to peace of mind and the confidence to make a gift that you know is affordable.
---
3. Navigating inheritance tax and reducing the liability
Inheritance Tax (IHT) rules can be complex and knowing the extent of any potential liability against your estate on death is an important starting point and can provide an excellent motivator to take action to reduce the liability.
In 2018/19 HMRC received £5.4 billion in tax revenue, with the average IHT bill reaching almost £200,000 (HMRC website June 2020).
With average house prices at £231,855 (HM Land Registry March 2020) and Universities in England charging up to £9,250 per annum, protecting against the risk of a reduction in your estate due to IHT could directly benefit a child or grandchild.
---
"Working with your Financial Planner to build a cash flow model gives you a clearer insight into how your generosity may impact your future plans."
---
---
4. Consider the options for mitigating tax and protecting your wealth
Thankfully, there are many reliefs, exemptions and solutions available to help mitigate IHT, and the savings can often run into the hundreds of thousands of pounds.
The use of Trusts in mitigating IHT can be highly effective although there can be a perception that they are expensive and the preserve of the wealthiest of estates. But this isn't the case.
Gifting assets via a Trust can enable you to maintain control over when your beneficiaries should receive the funds, either during your lifetime or death. It's also possible to change the beneficiaries, for example, to include a new grandchild.
With certain Trusts it's' even possible to receive some capital back from the Trust during your lifetime, which can be helpful if you are concerned about giving away more than you can afford.
---
5. Help your future generations to build their wealth
The tax status of pensions and ISAs can give your children and grandchildren a boost to their financial future.
Providing the capital to make these contributions and encouraging them to engage with financial planning early can help to set them on the right track.
Inviting them along to one of your financial planning meetings, for example, will provide an opportunity for you to discuss your plans directly with them and for them to seek clarity with your financial planner.
---
6. Make sure funds are available to pay any IHT bill
In most cases, IHT due on your estate will need to be paid by your executors before probate can be completed.
Complications can arise if there are insufficient liquid funds available to pay the bill, which could be significant given the average IHT bill is six figures.
Find out from your existing investment provider and bank when they will release your assets. Having funds in Trust which are not subject to probate and can pay out sooner could be a real advantage. You could also consider setting up an insurance policy to provide the capital that could be paid to Trust on second death, providing the Trustees with an accessible lump which could be used to pay the IHT bill.
And, most importantly engage early with estate planning and be proactive in planning your family's future.
If you would like help on financial planning advice then get in touch with us, or find out more about our financial planning services here.
---
---